GJEPC to kick off the New Year with IIJS Signature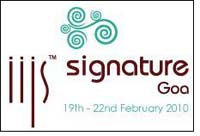 The Gem & Jewellery Export Promotion Council (GJEPC) will kick off the New Year on an optimistic note with its third edition of IIJS Signature that will be held from February 19-22, 2010 in Goa.

IIJS Signature has been conceptualized to represent and showcase the best that India has to offer in design, craftsmanship and quality. This is an exclusive platform that will see participation from India's leading, hand-picked companies who will display Jewellery and Loose stones. Each exhibitor will present innovative collections in tune with the current design & quality trends. Starting 2010, IIJS Signature will boast of a separate section featuring Loose Diamonds & Colored Stones manufacturers who will be presenting a wide range of diamonds in every shape and size, certified by the world's leading labs such as GIA, IGL, HRD etc.

Special Attractions at IIJS Signature also include:

• Meet Your Match Online: A unique Buyer-Seller interface allows buyers to preview products and companies to enable shortlist potential suppliers in advance.
• Your pick of "recession-proof" jewellery and loose stones from the most competitive centre

IIJS Signature promises a trade show of international standards and class through its exclusive list of exhibitors, compact size, modern exhibition concepts, great hospitality, networking opportunities, unbeatable beachside venue and much more to experience. Apart from International Visitors, about 5000 identified Domestic Retailers from all over India are being separately invited to witness this unique show

Mr. Vasant Mehta, Chairman, GJEPC, says "IIJS Signature promises to highlight India's capabilities to manufacture jewellery in terms of design, craftsmanship and quality at par with International centers in the world. The event is by invitation only, and will showcase products from country's top manufacturers. Signature is an ideal platform to identify and remove impediments that prevails and helps clear the way for a new era of trade cooperation and investment. The show also facilitates a broader business dialogue".

This show is an ideal platform to forge partnerships with India's foremost jewellery manufacturers who will display a sparkling array of fine jewellery collections with contemporary design and flair. IIJS Signature reiterates India's growing stature as a jewellery production centre, an evolution which is apparent in India's creativity and designs, in manufacturing and quality standards, as also in the conduct of business – all of which will be showcased at this exclusive jewellery show.

Goa is one of the world's preferred holiday destinations, IIJS Signature seeks to mix Business with Pleasure in a memorable way – it is a jewellery show in a seaside context, embellished with the latest trends in exhibition design, display and facilities. It's a premium niche event for select attendees only, high on experiential quotient with maximum buyer-seller interface and on-line pre-scheduled appointments.