Fashion industry to support International Year of Biodiversity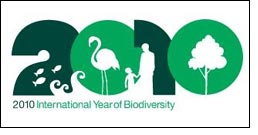 Biodiversity loss has accelerated in recent years and the current rate of human-caused (anthropogenic) species extinction was estimated by the 2005 Millennium Ecosystem Assessment to be 1,000 times more rapid that the natural rate of extinction typical of the Earth's long-term history.

Loss of habitat is the principal cause. Some 11 per cent of the natural areas remaining in 2000 may soon disappear, chiefly as a result of conversion for agriculture, the expansion of infrastructure and climate change. Some 60 per cent of coral reefs could be gone by 2030.

The United Nations Conference on Trade and Development (UNCTAD) BioTrade Initiative will launch its support of the United Nations 2010 International Year of Biodiversity with a two-day programme which will commence with a high-profile business seminar to discuss the role that governments, businesses and consumers can play in promoting and supporting biodiversity conservation and the sustainable use of natural resources.

It will conclude with a fashion show and the launch of an exhibition celebrating sustainable fashion and accessories. The show will include over 50 dresses that have been created and donated for the event by fashion designers from around the world, including renowned figures such as Diane von Furstenberg, Manish Arora, Bora Aksu and Thakoon.

The seminar on "Redefining Sustainability in the International Agenda: Inspiring Greater Engagement in Biodiversity Issues" will focus on ecological options available to the fashion and cosmetics industries.

Through interactive panel discussions and in-depth case studies, the two-day seminar will cover issues such as:

- Redefining Sustainability: Why Biodiversity and Why Now?
- The Rise of the Ethical Consumer and Eco-Fashion
- Luxury Brands as Sustainable Role Models
- Environmental Traceability, Accountability and Certification
- The Role of the Creative Industries in Developing Economies

The "EcoChic" fashion show will feature eco-couture and sustainable ready-to-wear clothing.

Internationally renowned designers Nathan Jenden and John Rocha, together with rising stars Alexandre Herchcovitch and Zhang Da, will design and present clothes made from sustainable natural fibres.

Established "sustainable" fashion labels EDUN, Noir, Ciel and Kumvana Gomani will contribute garments and accessories from their latest collections.

The exhibition, which will be open for two weeks after the fashion show at the Palais des Nations, will focus on how the fashion and cosmetic industries can contribute to biodiversity conservation and also provide social and economic benefits for communities in developing economies. Through a range of creative displays of fashion garments, accessories and cosmetics, the exhibition will examine the journey from raw material to finished product and address the many issues that consumers, marketers, designers and product developers encounter as they look to embrace more sustainable lifestyles.