Fiama Di Wills as Associate Sponsor of WIFW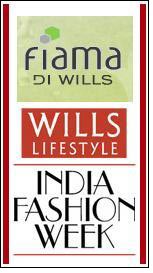 The Autumn Winter 2010 edition of the Wills Lifestyle India Fashion Week has Fiama Di Wills, ITC's premium range of personal care products as the Associate Sponsor. India's leading designers Namrata Joshipura and G Pia Fleming have partnered with Fiama Di Wills to showcase a special collection at WIFW.

The collection created especially for Fiama Di Wills, reflects the essence of the brand – Beautiful you, today and tomorrow. Fiama Di Wills offers an evocative and unique value proposition of gentle yet effective care through a blend of nature and science. The designers have aligned their collections for the Fiama show to the brand's proposition and its embedded glamour and style quotient.

Namrata's collection showcases this season's woman and her unique feminine strength. The collection symbolizes the strength derived from love. It is for the woman who glides through life because she is in command of her existence but never needs to flex her power.

Fall 2010 sets another milestone for Bian in Pia's red carpet collection. Inspired by the Italian opera and retro hollywood glamour this collection is refreshing, sexy and glamorous. Group of winter whites in a variety of fabrics and surfaces, bring home an eternal beauty in the absence of vibrant colours. The collection in washed velvet, silk satin, organza, tulle, lace and fur also includes ivories, taupe, greys, blues and metallics.

Speaking on the association with India's largest fashion event, Sandeep Kaul, Chief Executive, Personal Care Products Business, ITC Ltd said, "The association with India's largest Fashion Week is an ideal platform to engage with consumers and build on the brand's image. The Fiama woman is an achiever who is young, glamourous and stylish. Our association with both these designers is a perfect fit and an obvious decision given their stature in the designing community and the central theme. We are happy to have them on board to showcase the special Fiama collection."

Speaking on the preview, bollywood actress Amrita Rao said," It was a great privilege to be a part of the Fiama Di Wills collection preview. Both the designers are immensely talented and it is clearly visible in their work which is truly contemporary and stylish."

On their association, with Fiama Di Wills, Namrata Joshipura said, "It is my great pleasure to associate myself with Fiama Di Wills – they have emerged as a very serious and important supporter of fashion in India"

G Pia Fleming said, "Fiama ia about beauty, wellness and luxury. The BIAN Red carpet collection that we are launching this season epitomises all of the above. Therefore, it is a great alliance for both".

Namrata Joshipura for Fiama Di Wills- AW 2010

Narcotic love…….Elemental Strength

At the core is a love that emboldens and provides fundamental support. This season's woman has a uniquely feminine strength, derived from love- addiction of akind, clarity of purpose, sensuality, accomplishment and a healthy dose of ambition! This is a woman who glides through life because she is in command of her existence but she never needs to flex her power. She is full of paradoxes: feminine but strong, heard but not loud, joyful but not frivolous, and sensual but not submissive.