No Limits to expand Go Sport retail operations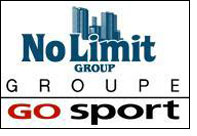 No Limits to open the first Go Sport ,sports multi brand concept and Courir sports lifestyle stores at Mecca Mall in Amman mid July,2010.

Group Go Sport and No Limits for General Trading L.L.C have recently signed a master franchise agreement which will allow No Limits to expand and develop the sports retail chain operations under the Go Sport and Courir banners to Jordan. Go Sport multi branded sports concept stores will offer a wide range of sports products ranging from Apparel, footwear, accessories and fitness equipment from the world's top brands and the best quality all under one roof making the sports shopping , an exciting experience to all members of the family .

The Courir lifestyle stores will offer the latest trends in the sports fashion from the top International brands to satisfy the taste of the Young women and men seeking to differentiate themselves from the others . Go Sport and Courir stores exist in many countries in the world like France, Poland, Middle East, Belgium, etc) the most recent Go Sport store opened in Dubai last week.

Mr. Dénes ALMASY DE SZADANY, CFO of the Go Sport Group stated: "We are delighted to sign this agreement, which will enable us to reinforce our expansion in the Middle East." Ramez Wahhab, CEO of No Limits stated: "We are very pleased and excited with this new agreement with Go Sport Group, and look forward to launch Go Sport and Courir stores in Jordan soon, so that we can continue to offer the best sports products to our customers as we did for the last 12 years, in order to help Jordanians stay fit and healthy."

In addition No Limits launched the Levi's Brand in Jordan, and opened 3 brand stores in the capital Amman.

With 387 sales outlets and sales of 698.3 million euros in 2009, the Go Sport Group features two brands, GO Sport and Courir, and is the third largest French distributor of sports and leisure items.

Being a leader in the sports retailer business, with headquarters in Amman No Limits exclusively owned and operated 15 adidas and 3 Reebok stores in Jordan, as well as 4 adidas stores in Iraq. In 2009 No Limits partnered with the adidas Group aiming to develop and expand the adidas and Reebok brand stores network in the country.

No Limits for General Trading L.L.C.