Value & fashion appeal are key parts of formula, Mr Price CEO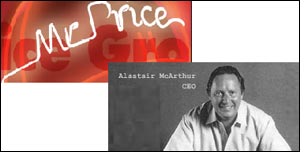 Mr Price Group delivers strong results in tough conditions. South Africa experienced negative GDP growth from the fourth quarter of 2008 and tentatively emerged from the recession in the third quarter of 2009. Despite the difficult trading environment, the group has continued to capture market share as measured by the Retailers' Liaison Committee (RLC) and achieved sales growth of 10.0% to R9.5 billion. Comparable sales, which include sales of expanded and relocated stores in like-for-like locations, increased by 8.2%.

CEO and Deputy Chairman Alastair McArthur said "Our business model is not built simply on low prices. Value and fashion appeal are key parts of the formula and we strive to delight our customers with our fashionable products at everyday low prices. Past performance has shown that as long as we execute well, the strategy is sound, both in good and poor trading conditions."

Good fashion interpretations and merchandise calls resulted in lower markdowns with the gross profit percentage increasing from 39.0% to 39.9%. Expenses were well controlled and weighted average space growth was 4.5%. Operating profit increased by 19.9% to R991.5 million and the operating margin increased from 9.6% to 10.5% of retail sales. Net finance income was positively affected by increased cash balances, despite the repo rate decreasing and contributed to profit after net finance income increasing by 20.6%.

Core headline earnings per share, which is a reflection of true trading performance, grew by 21.0%, while, after accounting for the once-off effect of the unbundling of the export partnerships, headline earnings per share were up 9.9%.

The Apparel chains increased sales and other income by 13.1% to R6.9 billion and operating profit by 18.3% to R980.3 million. The operating margin increased from 14.0% to 14.6%. Mr Price once again delivered an excellent trading result, having now gained market share for 48 consecutive months and grew sales by 15.9% with profits well ahead of the previous year. Miladys' annual sales were down 1.3%, with profits lower than the previous year but the chain showed an improved performance in the second half. Mr Price Sport increased sales by 19.1% to R437.0 million and exceeded internal profitability targets.

The Home chains' performance continued to be hampered by consumers' lower expenditure on discretionary home purchases. Sales and other income increased by 3.3% to R2.8 billion and operating profit by 21.5%. The operating margin increased from 3.1% to 3.7%. Mr Price Home recorded sales of R1.9 billion, an increase of 2.6% and gained considerable market share in the second half of the year. Operating profit improved due to an increased gross profit percentage and tight expense control. Sales in Sheet Street increased by 4.9% to R846.4 million with profits in line with the previous year.

The cash flows associated with 83.9% of sales being for cash has resulted in the financial position strengthening, and the group ended the year with cash resources of R1.2 billion. "Remaining a predominantly cash retailer has also been a fundamental part of the model," explained McArthur.