IFJAS to promote country's rich traditional crafts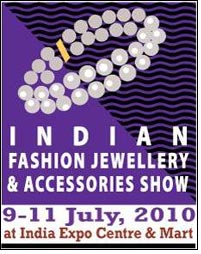 In order to tap the world market of 16.3-billion-dollar of fashion jewellery and accessories, Export Promotion Council for Handicrafts (EPCH) is launching a specialized show on Indian Fashion Jewellery & Accessories Show (IFJAS) from July 9 to 11, 2010 at India Expo Mart & Centre, Greater Noida, NCR Delhi.

India already exports fashion jewellery of the order of Rs. 245.83 crore to countries like Australia, Canada, France, Germany, Italy, Japan, Netherlands, UAE, Switzerland, USA, UK and Latin American countries etc. The share of India is still a very meager/ nominal of the percentage of the global market, said Mr. Raj Kumar Malhotra, Chairman, EPCH.

IFJAS will feature display of five broad product categories viz. fashion jewellery, semi precious fashion jewellery, fashion accessories, hand bags, purses, fancy shoes and embroided fashion accessories etc. Around 150 Indian manufacturers and exporters will be participating in the three-day event, which will provide an opportunity to buyers from across the globe to source products displayed under one roof from all over India.

The mega show has its base in the country's rich traditional crafts which today may not manifest in their purest form but nevertheless helping the industry, form, adopt and meet the requirement of discerning global market. Today, the fashion consciousness in India is comparable to the best in the world. As much as India has been popular for its precious jewellery for years, today it also marks a fashion statement globally.

India carved a niche in the International fashion jewellery industry with its sheer diversity and ever evolving nature. Traditional yet contemporary, ethnic yet modern, Indian fashion jewellery has an art form with diversity, designs, styles and technique that complements variable taste worldwide. Indian fashion jewellery has a sort of fashion of ethnic element with modern design keeping western taste and preferences in focus, he added.

Mr. Malhotra further added that the top ten importing nations for jewellery in the world are (in order of priority), USA, Germany, UK, France, Japan, Switzerland, Netherlands, Canada, Belgium and Hong Kong. These nations combined together share of 78% of the total world imports. India is already exporting to these markets. However, the share of India has been negligible. Therefore, there is a need to make vigorous efforts to increase exports from India.

Holding of IFJAS is a step in this direction, proposing to undertake participation in fashion jewellery shows in the main markets in the world, bring out specialized catalogue of fashion jewellery and accessories for circulation amongst regular and potential buyers in various countries and make vigorous efforts for entering into new and upcoming markets.

Mr. Malhotra opined that despite the economic downturn and recession in the world market, the market for fashion accessories and jewellery has continued to grow for the simple reasons that most of the consumers did not want to spend sizeable money on purchase of new dress but prefer to buy fashion jewellery and accessories to use alongwith old dress to give a new look to the personality.