Fashion jewellery & accessories to meet global standards, Smt. Menon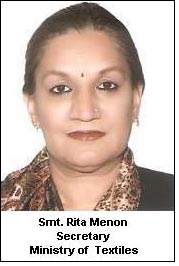 Smt. Rita Menon, Secretary, Ministry of Textiles, called upon Indian manufacturers and exporters of fashion jewellery and accessories to apply safety and compliance upto global standards to become more competitive in the world market.

Declaring the Show open, she said "the more you grow, the more you have to follow the global standards related in the safety at workplace and compliance as per the global standards".

She also said that the downfall in demand of precious jewellery has resulted into greater demand of the fashion jewellery and accessories worldwide.

She urged the Indian exporters and manufacturers to make India a hub of handcrafted jewellery taking advantage of availability basic raw materials and skilled workforce.

"The world market for fashion accessories is estimated to be of the order of 16.3-billion-dollar and India's share in the same has been very negligible. Therefore, there is a great scope for further increasing exports of Indian fashion accessories and jewellery," Smt. Menon said.

She further said that there is a big sort of potential in this segment and such dedicated and focused shows such as Indian Fashion Jewellery and Accessories Show (IFJAS) should be organized for the benefit of manufacturers as well as overseas buyers.

On the occasion, Smt. Menon felicitated the pioneers of the fashion jewellery and accessories segment of the Handicrafts Sector and further said that this would give a due recognition to the old timers who worked hard to establish this segment and the IFJAS 2010 is the right place to honour them.

She also mentioned that in addition to setting up of this new show and to be held on yearly basis, EPCH has also decided to make aggressive efforts for participation in the overseas business specific trade shows, organizing BSMs in target and upcoming markets.

Earlier, in his welcome address, Mr. Raj Kumar Malhotra, Chairman, EPCH
said that this show is part of the overall drive of EPCH to promote and expand horizons of key segments of the Handicrafts Sector. Fashion jewellery and accessories has tremendous potential world wide. Even despite recession in the world, the market for fashion accessories continued to benefit and remained stable.

Mr. Malhotra further said that "foreign buyers are of the view that range, types and designs available from India are not only wide and varied but also very attractive in price, quality and finish etc."

EPCH Chairman said he is also expecting foreign direct investment in this segment as a result of this show. Many buyers and importers may want to invest in Indian entrepreneurs and for setting up new units to produce goods of their requirement taking into account the Indian skills, raw materials etc.

The top ten importing countries for jewellery in the world are USA, Germany, UK, France, Japan, Switzerland, Netherlands, Canada, Belgium and Hong Kong and have acombined share of 78 per cent of the total world imports. India is already exporting to these markets.