Pure London to support emerging designers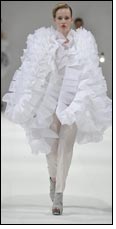 Pure London will be supporting the up and coming talent in the British fashion industry this August with the winners of Graduate Fashion Week showcasing their collections on the main catwalk.

Graduate Fashion Week aims to promote and nurture the talents of today's young, creative innovators, so that tomorrow's creative industries can continue to play a major role in the economy of the UK and the rest of the world.

The very best BA Graduate fashion design talent in the UK including Rebecca Thomson, Sara Wandsworth, Naomi New and Rhea Fields will be opening the catwalk show on the main stage every day, a must see for any buyer.

Rebecca Thomson, of Manchester University School of Art, is the winner of the most significant and prestigious prize at GFW, the River Island Gold Award. Her collection presents elegant wearable, neutral designs which have a strong commercial feel. The striking ethereal, structurally engaging collection features lace and frills, ruffles and flounces.

"We have all agreed on the winner because of her good sense of proportions, the unusual and interesting combination of fabric and for the contemporary feeling of her collection. She proved to be a complete designer, with creativity and strong knowledge of tailoring," commented judge Alberta Ferretti at GFW.

Rhea Fields from Northbrook College was the successful winner of the Womenswear Award. Her collection consists of androgynous tailored pieces with fleshy pink tones, black leather and latex.

Naomi New hails from Northumbria University and was a finalist of the River Island Gold Award. Her collection is inspired by her love of horse riding and consists of flamboyant designs incorporating her equestrian and armur influences. With Lady GaGa as her muse, this is a collection guaranteed to inspire buyers and retailers with fresh ideas.

"To be showing my collection on the catwalk at Pure London is such an amazing opportunity. I'm so excited to see my pieces on the catwalk again, and the fact that so many buyers, retailers and industry experts will see them too, is a real honor." commented Naomi New.

From the University of Central Lancashire, Sara Wandsworth's floaty layered pieces, showcasing her great oversized prints of London landmarks, will inject some fun into the catwalk scene.

Big Ben, The London Eye and the Union Jack flag feature throughout, but red, white and blue was banished in favour of black and white with teal and off-beat yellow. Simple shapes draped and layered with kaftans; floaty dresses and sweet shorts, this is a must see young designer.