Jil Sander's J FAQ's AW collection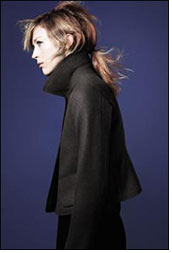 UNIQLO is happy to announce the +J collection, created together with fashion designer Ms. Jil Sander, debuted with amazing success in October 2009. The +J concept of pure tailoring, avant-garde textiles and truly modern silhouettes delighted many customers. After the success of collaborating for two season's with Ms. Sander, we are extremely excited to introduce the new 2010 Fall/Winter Collection

+J Autumn/Winter 2010 collection
From its inception one year ago the +J collection has evolved. The AW2010 collection's emphasis is on the silhouette, easy and gracious movement, practicality, and the perfect fit. Featuring fine wool, cashmere, flannel, beautiful felt coats and the finest of tailoring it also includes the iconic +J piece – the classic white shirt.

'+J concentrates on a well fitted, sculptured cut, quality materials, careful detailing, and an overall subdued sophistication. Once you establish such a key wardrobe, you will find that the rest is easily combined. A beautiful coat or a white shirt works with almost anything, but actually needs almost nothing else. I called the ideal I have in mind, uniforms for the future'
Jil Sander, 2010

+J: the essence is purity. "A passport through time and space: sculptured lines, fluid grace, modern sophistication for everyone." Consisting of approximately 150 items, the +J Autumn/Winter 2010 collection offers many possibilities for the choice of an individual style and a personal uniform.


Clothes made by a perfectionist
"Uniqlo X globally recognized talent" is a collaboration that makes globally leading design and sensibility available to everyone. Uniqlo launched the +J collection in collaboration with an internationally acclaimed designer, a longstanding leader in the luxury fashion industry. Thanks to her expertise, every piece of the +J collection, even though mass produced, feels and looks tailor-made. All details are carefully considered, from cutting and stitching to the choice of buttons.

The prototypes are put through repeated fittings and alterations with the sole goal of achieving perfection. As a result, +J offers sharp, sophisticated fashion, devoid of superfluous elements. +J will appeal to your instincts and senses because it puts you in touch with the essence of clothing.

As soon as you try on a piece from +J, your body will respond to the superior fit and comfort. Sculptured to capture the natural structure of the human shape, its beauty fully unfolds in movement. + J provides everything for your well-being, every piece is made to fit and enhance a free-floating life of sophistication. Uniqlo is now offering this year's Fall/Winter collection from the designer who explains: "I just want to make truly great clothes."

Materials express +J's potential
The +J collection is made possible through untiring fabric research, the latest technology, and the cultivation of avantgarde material. Take the white shirt as an example: Although it is one of the most basic pieces in the Collection, the +J shirt is spun from Egyptian cotton, a yarn of enthralling softness with a silk-like sheen. Ahead of the fashion industry, +J uses a large variety of new and luxurious materials: For us, the material determines the potential of any clothing item.