Cedella Marley to design PUMA Jamaican Olympic kit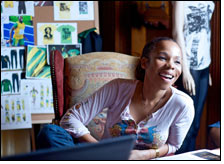 Sportlifestyle company PUMA announced that Cedella Marley, fashion designer and daughter of Jamaican reggae icon Bob Marley will design the Jamaican Track and Field team's Olympic, podium and ceremony wear for the London 2012 Olympic Games.

The designs will be worn by the entire team (men and women), including three-time Jamaican Olympic gold medallist, fastest man in the world and PUMA athlete Usain 'Lightning' Bolt. PUMA's partnership with Marley, the eldest daughter in the Jamaican family dynasty, underscores the brand's long-team commitment to the Caribbean nation, with its rich cultural heritage, global music contributions and its unparalleled dedication to Athletics.

"It is truly an honor to design this collection for my home country and my home team," said Cedella Marley. "It's not even a dream come true because it's something I never dreamed would be possible. I ran track in high school in Jamaica and I'm still a huge fan of Jamaican Athletics, so to have a role in creating the outfits for our Olympians is unbelievable. I admire what PUMA has been doing in Jamaica over the years and the Marley family has the same type of give-back philosophy. I think this partnership is going to be legendary."

Staying true to PUMA's DNA of sportlifestyle, the collection will incorporate high tech fabrics and silhouettes engineered to enhance the performance of all the athletes. Taking inspiration from the vibrant colors and patterns of Jamaica as well as its African roots, Cedella Marley's unique designs are sure to make the world take notice in the Summer of 2012.

"I can't think of a better person to design our Olympic outfits than Cedella," said Usain Bolt. "PUMA got that right...hooking up with a legendary Jamaican. She's a great designer but also carries on the spirit of our nation through the legacy of the Marley family. It's going to be inspirational to run in London with that energy surrounding me."

PUMA's Olympic wear will be accompanied by a complete lifestyle collection of apparel, which will be available at PUMA retail stores globally. A small capsule collection will be available with limited distribution in August 2011 to time for the IAAF 2011 World Championships, taking place in Korea.

"We'll go through a rigorous process of material selection and design to ensure the performance singlets, in particular, meet the needs of Jamaica's world-class athletes," continued Marley. They have to fit and feel like a second skin. Afterall, I wouldn't want to be the one responsible for Bolt not finishing first."

"Partnering with Cedella and the Marley family is a perfect fit for our brand," said Antonio Bertone, Chief Marketing Officer for PUMA. "She embodies the fun, laid back nature of Jamaica and will bring an authenticity to the collection for the entire world to see in London 2012."

Cedella Marley began designing clothes while she was on tour with Ziggy Marley and the
Melody Makers, a band comprised of her brothers and sisters. Her fashion brand, Catch A Fire, named after her father's first album, debuted in 2001 and encompasses a tailored bohemian style with vivid colors and prints. Her collections are available in upscale department stores throughout the United States. In addition to fashion design, Marley is a children's book author and the CEO of Tuff Gong International—the record label founded by father Bob Marley in 1965.