Polish designer Agnieszka Kowalska wins Habitus Baltija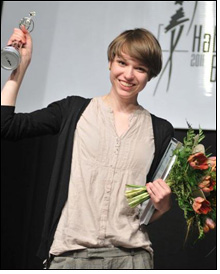 Young Polish designer Agnieszka Kowalska, a student of Cracow School of Art and Fashion Design won the Grand Prix of the 11th Competition for Young Fashion Designers "Habitus Baltija 2011 that took place at Kipsala International Exhibition Centre in Riga on April 9.

The Grand Prix winner received the Habitus Baltija Statuette and paid study opportunities worth EUR 12,000 at GED Fashion Institute in Milan, Italy. Agnieszka's collection "Szalapot" got the highest evaluations in the competition category "Avant-garde Fashion".

Another student of the Cracow School of Art and Fashion Design Karolina Gronicka won the laurels of the best designer in the category "Industrial Pret-a-porter" with her collection "Niente" and received the certificate for participation in the prestigious IX International Young Designers Competition "Russian Siluet" to be held in September 2011 in Moscow.

The student of the A.M. Shirokov Institute of Contemporary Knowledge Alexey Ivanov (Leor Gofman) from Belarus with his collection "Strangers in the Air" won in the competition category "Artistic Pret-a-porter" landing an opportunity to advertise on www.notjustalabel.com, a respected fashion portal frequented by such celebrities as Lady Gaga, Rihanna, Fergie, Taylor Swift, Beyoncé, Paris Hilton and many others.

The winner of the School Competition – the Art Academy of Latvia – received the Habitus Baltija Statuette designed and sculpted in metal by Maris Šustinš and the certificate for participation for one student in the prestigious fashion design competition "Melnica Modi" in Belarus.

All in all, 9 educational institutions – the Art Academy of Latvia, the Riga Technical University, the Estonian Academy of Art, the Vilnius Academy of Art (Lithuania), the Telsiai Faculty of Art, Vilnius Academy of Art (Lithuania), the Novia University of Applied Sciences (Finland), the Institute of Contemporary Knowledge named after A. M. Shirokov (Belarus), the Cracow School of Art and Fashion Design (Poland) and the Mimar Sinan Fine Arts University (Turkey) – competed for the title of the Best Fashion School.

Special prizes to favourites were presented by the "Habitus Baltija 2011" sponsors and cooperation partners – the magazine L`Officiel, Atellier, Bogomolov` Image School, Coats Latvija, Lux Express, the designer Martinš Pupols, the photographer Edijs Palens, the Latvian British Chamber of Commerce and the trade fair "Intertextil Balticum 2011".

The project manager of "Habitus Baltija 2011" Ilona Ansone revealed that the competition is an excellent platform for young designers providing an opportunity of being noticed, immeasurable experience and valuable prizes. "I do believe that all prizes – an academic year in the capital of fashion Milan, participation in prestigious competitions and an opportunity to join a respected fashion portal – will help our winners to distinguish themselves in the world of fashion. Our aim is to develop this competition, to make it known among fashion professionals," Ilona Ansone tells.