Key works by Lillian Bassman at Donna Karan store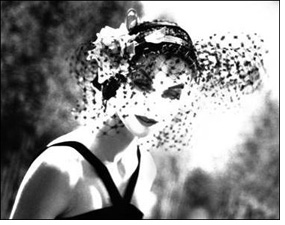 The Donna Karan store in London is set to host an exhibition of key works by Lillian Bassman, one of the most important fashion photographers of the 20th century. The exhibition runs from 11th May through to 11th July 2011.

In an exciting collaboration with The Wapping Project, Lillian Bassman's distinctive black and white fashion photographs will for a time sit outside of the conventional gallery context within which they are now most often seen and form the heart of a series of quiet tutorial events led by Jules Wright, Director The Wapping Project, Jocelyn Phillips, Curator of Photography, Bonham's Auction House, Ligaya Salazar, Curator of Fashion, V&A, Magda Kearney, Curator National Portrait Gallery, Curator of the London College of Fashion Gallery and Sue Seward, journalist. In a radical departure from the place in which photography is so often discussed, Bassman's work will be focused within the world she so perfectly captured on film.

Lillian Bassman's experimental and romantic visions revolutionised fashion photography. In fact, Vanity Fair magazine singled her out as one of photography's "grand masters." Full of mystery, sensuality, and expressionistic glamour, Ms. Bassman's dramatic black and white photographs capture secret moments and dream memories. Twenty of Bassman's elegant, graceful and totally original works will be on display in the Donna Karan store.

Ms Bassman's pictures belong distinctly to the era of "Mad Men" New York; the clothes have a structured beauty and gloves are mandatory. Bassman's women appear utterly indifferent to the world around them. Moreover, the perversions of inequality so prevalent at the time are absent. What appears instead is the glamour of a protracted cultural moment in which women were free from any expectation.

Ms. Bassman took her most significant pictures from the late 1940s to the early 1960s. Most were commissioned by American Harper's Bazaar under the stewardship of the magazine's influential art director Alexey Brodovitch. Born in 1917, Bassman worked in an era dominated by photography heavy weights Richard Avedon and Irving Penn and she was one of only a handful of female photographers in the fashion business. But from the outset Bassman's individual photographic style quickly singled her out as the leading photographer of her generation.

Being a woman advantaged her, Ms. Bassman felt. "The models thought about this a lot," she said. "It was a sexually very different thing when they worked with men. They felt a charge. They were posing for men. I caught them when they were relaxed, natural, and I spent a lot of time talking to them about their husbands, their lovers, their babies."

Commenting on Lillian Bassman;s works, Founder of The Wapping Project Jules Wright says:
"Bassman's vision carries the emotion of womanhood, rather than just the visual image of it. When she photographed lingerie, the viewer was invited into the intimate serenity of the dressing room and the photo was not about an undergarment, it was about the introspective moment before a woman is finally dressed.