Bremen Cotton Index unchanged this week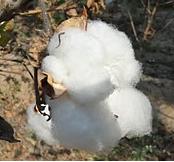 The availability of the new crop in Europe is coming closer; nevertheless prices remained firm - in the USA probably supported by news about further monetary operations and good export data, in Europe due to the limited availability of higher qualities.

The CIF Bremen Index has not changed in comparison to the previous week. The interest in purchases was rather small; many enquiries only served as price orientation or as information source on the current price development since a clear tendency could still not be identified.

Quotations dropped for a short time at the beginning of the reported week encouraging some processors to satisfy their need for running orders. Contracts, however, were only closed for delivery up to the 1st quarter 2013.

The following contracts were closed:
In the medium staple range: West Africa for prompt delivery. US EMOT, Greece and Central Asia for the 4th quarter 2012. Spain and Argentina for the 4th quarter 2012 up to the 1st quarter 2013.
In the extra-long staple range: Israel Pima for prompt delivery.
Bremen CIF Index