HRI Rugs unveils Moroccan rugs inspired 'Oasis' collection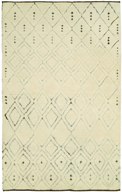 The Oasis collection is inspired by famous Moroccan rugs that are favored by designers and stylists. HRI's designers have created a modern and beautiful collection of timeless design.
Using hand spun 100% natural wool, master artisans hand knot a plush and soft rug that has a high pile which incorporates a high low texture unique in design and pattern.
This creates a warm, yet authentic pattern that is subtle and beautiful.
These designs can be used in any decor, from a traditional to modern setting.
The rugs are all natural and eco-friendly. No chemical or dyes are used to create this elegant collection.
HRI Rugs