2014/15 global cotton output down from last season - USDA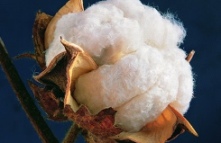 For the 2014/15 season, the August report of USDA forecasts global world cotton production at 117.6 million bales, up 1.2 million bales above the forecast made in July, but is slightly below 2013/14 cotton output.

In its report, the US agricultural agency says, higher production forecasts in August for the United States and India, resulting from a rise in harvested area expectations, are partially offset by reductions elsewhere.

USDA estimates world cotton acreage in 2014/15 at 33.9 million hectares, up 3.5 percent from 2013/14. Despite a third consecutive season of lower world production and rising world consumption, USDA informs that, production remains 5 million bales above consumption in 2014/15.

In China, the largest producing country, the cotton crop is projected at 29.5 million bales in 2014/15, down 8 percent from 32 million bales last season. The reduction, USDA says, is due largely to fewer incentives for planting cotton in China's eastern provinces.

Total area in China is projected to decline 11 percent to 4.35 million hectares, with a record yield forecast at 1,477 kg/hectare.

India, Brazil, and Australia are also expected to see their crops decline in 2014/15. For India, the late monsoon will likely benefit cotton as some areas, originally expected to be devoted to alternative crops, with an earlier planting window are now projected to move to cotton.

Indian cotton acreage is now forecast at a record 12.2 million hectares, but with reduced yields, due to the delayed monsoon, a crop of only 29.0 million bales is projected, 5 percent below the previous year.

In Brazil, cotton area and production are both expected to decline 6 percent in 2014/15, the report reveals. Acreage is estimated at nearly 1.1 million hectares while the crop is forecast at 7.3 million bales, 500,000 below 2013/14.

In Australia, limited water supplies are expected to further reduce the crop to 2.5 million bales in 2014/15.

The report informs that global cotton consumption in 2014/15 is forecast at 112.6 million bales, up 1.2 million bales from last month and above the previous three seasons.

World cotton use remains well below 2006/07's record of 124.0 million bales although a modest growth of nearly 4 percent is projected this season as consumer demand for textile and apparel products increases and raw cotton becomes more price-competitive vis-à-vis manmade fibers.

Mill use in China is projected at 36.5 million bales in 2014/15, 2 million bales or 6 percent above the previous season.

Cotton yarn imports by China are expected to decline in 2014/15 as cotton produced domestically becomes more competitive due to the expected reductions in the government price support. Uncertainties about future policies, however, may limit China's cotton mill use potential in 2014/15.

India's consumption is forecast to increase about 1.3 million bales in 2014/15 to nearly 24.8 million bales, a record, as strong export demand for India's cotton products continues.