Rains abundant in Indian cotton growing areas - ICF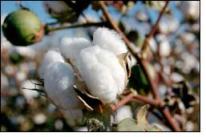 The rains have been abundant in most of the cotton growing areas. However, in certain parts of Rajasthan and Haryana, there may have been some damages to the cotton crop, informs the latest fortnightly report from the Indian Cotton Federation.

It says new crop Bunny is arriving in very small quantities in some pockets of Punjab, Haryana and Karnataka. Average kappas arrivals are around 10,000 bales a day, including new crop as per reports.

Cotton prices continued to rule steady to an easy tendency with the increase in acreage even with delayed rainfall. This has given a hope for a good volume of cotton production next season and it also informs that mill demand has continued, though in small quantities.

Mills have started planning to cover their yearly requirements, once the demand supply equation is aired by various forecasting agencies. Farmers began disposing of old stocks on the prospects of new season.

Indian Government's programme on Focused Market Scheme (FMS) has attracted manufacturers and those from textiles industry in particular. Central Govt will offer incentives with three parameters; creation of more jobs, increase foreign exchange earnings and the last freight/distance.

Region wise, in Punjab, Haryana & Rajasthan, there are reports of abundant rainfall recently and the new crop J-34 r/g cotton has started arriving in small quantities, but is full of black spots and yellows due to excess rainfall.

There are reports of some damage to the standing crop in Haryana and Rajasthan, but is expected not to have an impact on the crop size due to increase in the cotton sowing area.

The price quoted for new crop J-34 r/g from Punjab region is Rs. 4060/-spot per maund while in Haryana, new crop J-34 r/g is quoted at Rs.4030/-spot per maund. Good quality Punjab J-34 r/g of old crop is quoted at Rs.4330/-spot per maund.

High density cotton planting trials are being conducted in Ajmer, Jodhpur, Naguar and Pali districts of Rajasthan as per CITI report. This programme is expected to benefit farmers with higher yield potential.

In Gujarat, although rains have been delayed, the deficit has now been cleared and seems to be favouring the cotton crop here. In some pockets neighbouring Dhanduka, new crop cotton is expected to start arriving by the month end. The price for good quality S-6 is quoted at Rs.39,500/- spot per candy.

Rains have been delayed in Marathwada region and may cause a delay in arrivals in this region around Beed. In areas surrounding Jalgaon in Khandesh region, the new crop Mech-1 cotton is expected to start arriving before the month end. The price for good quality 29mm Mech-1 cotton is Rs.40,500/-spot per candy.

In Madhya Pradesh, rains have been quite good and the cotton crop is expected to be good in this region. Good quality Bunny of stock lots is quoted at Rs.39,500/- spot per candy.