NY cotton futures slip marginally as Dec & Mar shed weight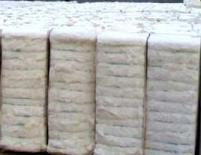 As December declined 38 points to close at 63.56 cents/lb, while March shed 56 points to close at 61.71 cents/lb, New York cotton futures moved slightly lower this week.

Another round of severe weather in the Delta and Southeast combined with some additional spec short covering lifted December to a high of 65.65 cents earlier this week, but improving weather conditions and renewed economic worries precluded any further advances for now.

Last week's CFTC report confirmed that it was spec short covering that lifted December nearly 500 points off its lows, while the trade used the opportunity to expand its still meager net short position.

During the week ending on October 7, the trade increased its net short by 0.9 million bales to 3.4 million bales, while speculators reduced their net short by the same amount to 2.4 million bales. Index funds remained 5.8 million bales net long, the Plexus market report informs.

Interestingly, the change in the trade's net short position was mainly the result of trade long liquidation rather than new shorts, which probably means that merchants were finally able to get some cotton out of grower hands.

However, the flow of cash cotton into the marketing channel remains rather slow at this point, as only 2.1 million warehouse receipts have so far been issued.

Fortunately the weather is looking quite favorable at the moment and harvest should therefore gain momentum over the coming weeks.

Nevertheless, a somewhat irregular growing season and several rounds of heavy rain in recent weeks has shippers concerned regarding quality and it will still be another 4-5 weeks before a clearer picture of the crop will emerge.

Last Friday's USDA supply/demand report played right into the current market scenario, with a short-term bottleneck situation eventually giving way to a longer-term oversupply outlook.

The USDA lowered the US crop to 16.26 million bales, thereby reducing total supply for the season to 18.7 million bales, of which more than half is already committed to domestic and overseas buyers.
This creates even more urgency among merchants to get their hands on premium cotton early on.

However, the USDA numbers leave no doubt that the ROW should sooner or later transition to a substantial oversupply situation. The USDA estimates that ROW stocks will grow from 38.6 to 45.0 million bales over the course of this season.

US and India will shoulder the bulk of this inventory build-up, seeing their stocks rise by 2.45 and 2.30 million bales, respectively, followed by increases in West Africa of 0.55 million bales and Central Asia of 0.52 million bales.

In the Northern Hemisphere, stocks will probably start to build from January onwards and it therefore can be expected that the market will reflect carrying charges between March and July futures in order to provide an incentive for merchants and/or growers to hold inventory.