All India raw cotton arrivals touch 3cr bales – ICF Report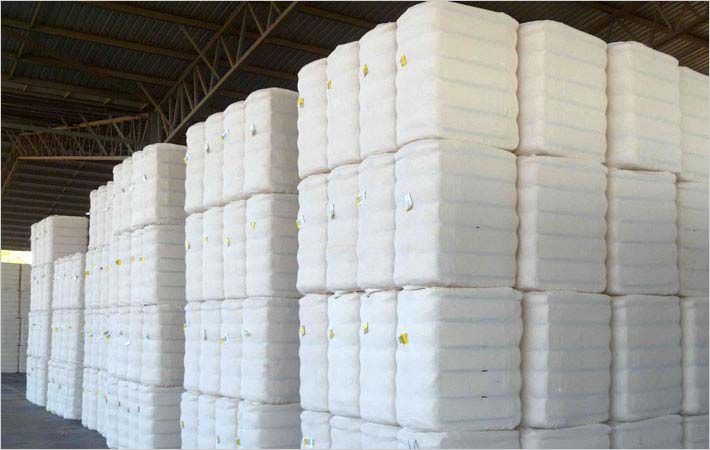 "All India kappas (raw cotton) arrivals have touched approximately 3 crore bales and CCI cotton procurement has crossed approximately 80 lakhs bales till now," informs the fortnightly report of Indian Cotton Federation.

It adds that as per market reports, there may be a drop in the quantity of the Indian cotton crop below 4 crore bales which was predicted earlier.

The untimely rains may be helpful to the standing crop as cotton quality may improve and the hailstorm in Madhya Pradesh and parts of Maharashtra has affected standing cotton crops.

Farmers are in double mind with regards to the selection of which cash crop to be taken up for next season as per reports of an all India farmers group.

The report also informs that CCI's huge stock will have to tackle quality aspects due to storage and timely use.

In Punjab, Haryana and Rajasthan, kappas arrivals are almost coming to a close as there has been a drastic fall in daily kappas arrivals in this region.

J-34 R/G prices vary from Rs 3415 per maund spot in Rajasthan to Rs 3425 per maund spot in Haryana and Rs 3495 per maund spot in Punjab.

In Gujarat, kappas arrivals are still maintaining between 30,000 to 40,000 bales per day and the price for good quality 28.5 mm cotton is Rs 31,800 spot per candy, while V-797 R/G is quoted at Rs 23,500 spot per candy.

Good quality Bunny of 30 mm in Vidharba region is priced at Rs 32,500 spot per candy in Maharashtra, while 29 mm cotton is being sold at Rs 31,600 spot per candy; however, hailstorms have disturbed standing crop.

Kappas arrivals in Madhya Pradesh have dropped drastically as the cotton season is nearing to an end.

Good quality 29 mm Bunny is quoted at Rs 32,500 spot per candy, 34 mm Dch-32 is priced at Rs 41,500 spot per candy and the hailstorm has disturbed the standing crop here also.

As per market sources, approximately 80 lakh bales have arrived till now in Andhra Pradesh. Good quality 31 mm MCU-5 in Guntur is priced at Rs 34,700 spot per candy.

In Warangal, 30 mm Bunny is quoted at Rs 33,500 spot per candy, while 29 mm Bunny in Adilabad is offered at Rs 32,500 spot per candy.

Arrivals have dropped drastically in most parts of Karnataka and as the season is nearing its end, quality too is dropping drastically. Good quality 29 mm Bunny cotton is priced at Rs 32,500 spot per candy, while good quality DCH-32 of 35 mm is priced at Rs 46,000 spot per candy.

Jayadhar cotton is arriving in small pockets near Gadag and the recent hailstorm has not been favourable to the standing cotton plants and crop of Jayadhar is expected to be around 20,000 bales.

In Tamil Nadu, good quality 30 mm RCH cotton is priced at Rs 34,500 spot per candy in areas surrounding Theni and Kovilpatti and 35 mm DCH-32 in areas surrounding Madapally is quoted at Rs 45,500 spot per candy.