Huge scope for technical textiles & sportswear industry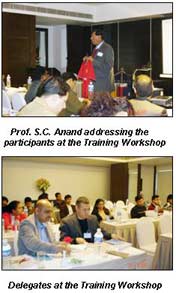 Business Coordination House (BCH), a pioneering outfit in the field of technical textiles, organized a two-day training workshop on sports textiles on 13 and 14 December at Hotel Hans Plaza, New Delhi, India.

It proved to be a resounding success, providing equal access to excellence in the new path breaking and trail-blazing technologies in the manufacture of functional sports apparel for all attendees.

Today's sports clothing is engineered to maximize comfort through enhanced moisture management and temperature regulation. High-tech fabrics and apparel designed for high performance wear have increased performance levels of sportspersons world-wide and have made them more competitive.

Such properties are built into garments using specialized fibres, yarns, fabric, finishing techniques and garment construction. The demand for such materials provides huge scope for innovative suppliers of technical textiles and functional sportswear and active wear.

Giant global brands, internationally renowned experts as well as the domestic satraps all participated for the Benthamite principle of the greatest good of the greatest number. The workshop's course instructor was Prof Subhash Anand from the University of Bolton in UK. His learned and insightful observations were warmly received by the audience.

Mr. N. Vishwanathan and Mr. Dhirendra Gautam from Huntsman International (India) Pvt Ltd shared their knowledge, skills and experience in thedyeing and finishing of sports textiles.