Address of Shri A.K.Singh at SRTEPC Export Award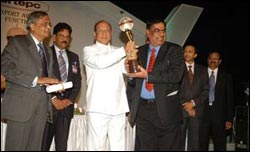 I am delighted to be amongst you all on the occasion of the Export Award Function of The Synthetic and Rayon Textiles Export Promotion Council.

Over the years, the Council has initiated many pioneering promotional activities which resulted in substantial growth in exports of Indian synthetic textiles in traditional as well as new markets around the globe. The Man-made Textile segment is performing very well although the 'Rupee Appreciation' has hurt the Textiles Industry in general.

In the present scenario of fierce competition, this export performance is truly remarkable and gives us a great sense of satisfaction. I would, therefore, take this opportunity to convey my appreciation to SRTEPC and its member companies who have worked hand in hand to achieve this creditable performance. I am confident that the Council and Members will continue their good work in future and achieve new milestones.

Indian Textiles industry is primarily cotton dominated. However, the world fibre consumption pattern is in favour of the Man-Made Textiles. For India to secure a substantial share of the global textile trade, the Man-Made Textiles sector has to grow at a faster rate. This segment was kept out of the quota restrictions. Thus, whatever this sector has achieved is due to its own strength.

I believe, this sector has not realized its true potential so far and has many a mile to go. Synthetic Fibres has many advantages over the natural fibres; like 'multiple varieties', 'inexpensive', 'uniform in characteristics', 'made to have specific properties', etc.