Manon Seethaler wins Interior Designer of the Year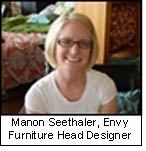 Manon Seethaler, Envy Furniture's Head Designer, has won Interior Designer of the Year at the 2008 Home Show. Manon Seethaler, Envy Furnitures Head Designer, has won Interior Designer of the Year at the 2008 Home Show. The competion was held at the 32nd Annual Home Remodeling & Decorating Show at the Southtowne Expo Center January 4th - 6th, 2008.

Contestants were given an empty 10' x 20' space with nothing but bare drywall. Designers were asked to "finish" the room and make it their own including mudding, taping, and painting the walls, hanging crown molding and baseboards and then designing the room with the principles of design. The designers had just over 36 hours to turn their bare rooms into works of art.

Rooms were judged based on the basic principles and elements of design. Manons room emphasized rythym through repetition. A flower garden pattern was used on the hand painted wall and carried through in accent pillows and down to the area rug. Manon also emphasized a balance of color by pops of color specifically placed througout the room. This created a feeling of balance and made the design interesting to the eye. The rooms were judged by Michael Johnson from HGTV's Designed to sell and Utah's Lori Clark, The Painted Lady, from L.A. Clark designs.

Manon said the inspiration of her room was Alice in Wonderland meets Secret Garden. The design featured a beautiful hand painted tangerine wall with tangerine accents throughout. The basic color scheme was Tangerine, Reds, Browns, and Blues. The room featured furniture from Stylus, Klaussner, Amisco, Tema, Chicago Textile, and Company C. The sofa, a Lyric from Stylus stood out as the focal point in a unique color and an extra fourth seat.