International Istanbul Furniture fair ended on a positive note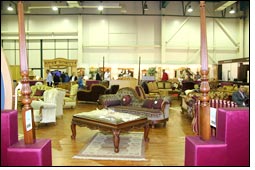 The fourth International Istanbul Furniture fair held from January 30, was organized by the Furniture Industry Association of Turkey (MOSDER) and Istanbul Fuarcilik (ITF). There were more that 70,000 visitors this time.

Participating firms displayed their latest crafted furnitures. Functionality seemed to be the top priority as a result of current competition in the industry.

According one of the manufacturers, the major mission is to bring global technological growth to the products as well as to the sector, with the utilization of all new developments, even nanotechnology.

Mattresses from Isbir, furniture from world-famous brand Pierre Cardin, leather furnishings from Montel, were showcased during the five day event.

Turkish furniture has created a niche for itself in the international arena because of high quality design and competitive price. Presently, over 110 countries import home furnishings from the region.

Statistics show that the volume of exports reached nearly US $800 million last year. At present some 60,000 companies are active in Turkey's furniture sector, the total business volume of which is estimated at $7 billion.

International Istanbul Furniture fair served as a platform for the Turkish manufacturers to attract international buyers and the event ended successfully on February 3.