JS Humidifiers develops Enhanced JetSpray Humidifier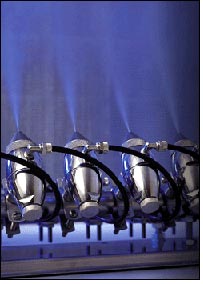 JS Humidifiers has recently developed its JetSpray compressed air and water humidifier to include many new features, such as a remote user interface, easy commissioning, advanced hygiene technology and an increased capacity from 300 to 600 litres per hour.

The JetSpray humidifier was initially launched by JS over 25 years ago and has been humidifying industries and air handling systems around the world ever since. It comprises of a control panel feeding compressed air and water to rows of nozzles that produce sprays with droplets just 7.5ìm in size, which rapidly evaporate raising the humidity to the required level.

Due to a self-cleaning mechanism the nozzles never require internal maintenance, which means the system needs very little attention. Just an annual check is often sufficient. JetSpray is also very energy efficient compared to steam systems, using less than a tenth of the energy.

The recent developments to the JetSpray include a new easy-to-use remote interface that can be positioned up to 100m away from the control panel. It can be linked to a BMS and shows current ambient humidity, ambient air temperature as well as the desired humidity set-point.

On/off timers and hygiene flush cycles can be set at the push of a button and a fault diagnostic system gives indication of operational errors and service requirements. A range of options is available, including incoming water temperature measurement.

Hygienic operation of the JetSpray is guaranteed with the use of new automatic flush cycles to ensure no water can remain in the system to stagnate. These cycles can be adjusted depending on use to ensure water consumption is kept to a minimum.

Also a PureFlo Ag+ silver ion dosing system, incorporating a new self-regulating antibacterial material, is now attached to the in-coming water supply. This prevents microbial build-up in the water and has a strong residual effect throughout the pipework.