What will be on display at Decosit 2008?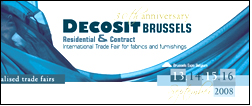 DECOSIT exhibition is scheduled to be held on September 13-16, 2008 at Bruxelles.

December 5th and 6th, the trend concertation team of Decosit Brussels was once again present in Ghent for two days of debate.

After a warm welcome and a fine lunch in the brasserie of the Museum for Fine Arts, the team was guided through the famous exposition 'British Vision'.

After this Head Shop/Shop Head was visited, a retrospective of the work of artist Paul McCarthy at the contempory art museum SMAK.

The least one can say about Paul McCarthy's work is that it opposes. The confrontation was rough for some of us, hilarious for others.

Paul McCarthey is indeed the artist who breaks all bounderies and shows openly what we rather hide. He accuses society of being vulgar, sexually obsessed and most of all: greedy. He does in a inconveinient humouristic way.

In the evening a short debate about social mega trends was held as a warming up. The discussion was lively and very interesting. For many of us, the chat continued in the authentic Sicilian restaurant 'Il mezzo giorno'.

Next day, the presentations by the concertation participants were interesting and gave a clear view on their own individual opinions.

Some of our trend watchers came up with the idea to call our work 'inspirations', 'new visions' or 'creative concepts' in stead of 'trends', which they thought have had their best time.

At the end of the day the most important new idea's were listed up. One particular word always came back: confrontation (juxtaposition, hybrid, ambigue,…). Today every action includes a re-action. Every trend an counter trend.