EQUATE hosts annual employee celebration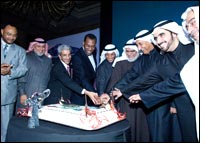 EQUATE hosted its annual employee celebration to mark the excellent performance consistently the Company sustained year after year.

This year's celebration was unique as it coincided with Company's completion of 10 years of operations. The event held at Courtyard in downtown was attended by EQUATE Board of Directors and management team as well as a good number of employees.

During the celebration, EQUATE's various departments displayed their outstanding performance achievements in a show case display. Adding to it, company's six sigma green belt exhibited their projects explaining its purpose and anticipated results.

Hamad Al Terkait, EQUATE President and CEO thanked all employees for their contribution to EQUATE and for making it one of the best world class petrochemical plants in the region.

Al Terkait expressed his happiness on company's overall performance and remarked that in the year 2007, the organization accomplished 100% of its performance targets and some even exceeded target.

It is noteworthy to mention that EQUATE Petrochemical Company has won the prize of His Highness the Amir of Kuwait for The Best Plant in the State of Kuwait for the year 2007.

The Award of His Highness the Amir Sheikh Sabah Al Ahmad Al Sabah is an annual award instituted by the Kuwait Public Authority for Industry (PAI) to distinguished companies and it is aimed at enhancing the competitiveness of local companies.

In the year,EQUATE also secured the first Corporate Social Responsibility (CSR) award in Kuwait for its contribution to the community through various social responsible projects and public awareness programs.