MoC-MeA to sponsor SITRA's 56 International Training Programme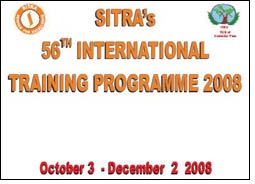 SITRA, a link in the chain of textile laboratories in the country, has emerged as an important centre for International training to candidates from third world countries.

Fifty five batches of the programme have been conducted since its initiation in 1974 and more than 1400 participants from 70 developing countries have so far benefitted out of SITRA's expertise in textile technology.

- Disseminating and strengthening awareness relating to India's expertise in improving
productivity, quality, cost and waste control in developing countries.
- Creating and strengthening awareness about the superior quality of modern Indian textile machinery and its cost effectiveness.
- Develop managerial capabilities among the trainees in order to manage and sustain effective management of personnel in organisations.
- Improved International understanding and goodwill between India and other developing nations.

Two courses are offered during the programme - each of two months duration. The programme is scheduled to be held during October 3, 2008 - December 2, 2008.

Travel plans and accommodation:
- SITRA is situated very close (just a minute's travel) to the city's Airport which is connected to major Indian cities like Delhi, Mumbai, Chennai, Bengaluru and Thiruvananthapuram.
- SITRA does not have hostel facilities. However, hotel accommodation shall be provided in hotels in the city.

Venue
The programme will be conducted at The South India Textile Research Association, Coimbatore.

Facilities available at SITRA:
One of the important Textile Research Associations in India, SITRA houses large pilot mills (Spinning, Weaving & Knitting), Physical and Chemical Testing laboratories, equipped with the latest state-of-threat instruments and Computer Aided Design Centre apart from a well-furnished training halls with the necessary multimedia utilities.