Kao-Kanebo Cosmetics to establish a logistics center in Tohoku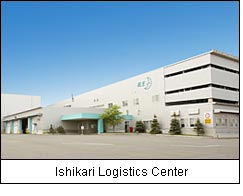 Kao Corporation (President and CEO; Motoki Ozaki) and Kanebo Cosmetics Inc (President and COO; Kenji Chishiki) started integration of logistics bases and joint distribution of their products, such as consumer products and cosmetics, for their common customers.

Since November 2007, the two companies have sequentially implemented logistic integrations in the Kansai area and Hokkaido. This October, they plan to establish a logistics center in the Tohoku area. By 2010, integrated logistics bases will be located throughout Japan to provide nationwide joint distribution for the companies' mutual customers.

Kao and Kanebo Cosmetics are targeting about 5 billion yen (approx. 48,500,000 US dollars) of cumulative cost reductions by 2010 in relation to logistical synergies.

The aim of the integration is to more efficiently utilize the companies' logistics infrastructure, including logistics bases, systems, and relevant subsidiaries.

By incorporating Kanebo Cosmetics' logistics bases with Kao Group's logistics integration plan, the companies will reduce rental fees for external storage and cargo handling fees. At the same time, they plan to reduce delivery fees by more efficiently using Kao's delivery routes for consumer products.

Integration projects of logistics bases in the Kansai areas and Hokkaido have been completed. The Kansai Logistics Center started operations on November 12, 2007, as a cosmetics integration type of distribution center for Kao and Kanebo Cosmetic's cosmetic products.