RSFS 8 for producing warp-knitted fish nets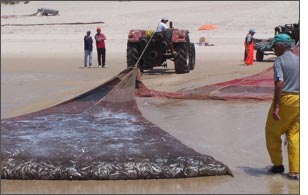 The KARL MAYER range of machines for producing fish nets comprises two machines, the RSFL 8 N – 6 M in gauges of E 12, 14 and 16 for producing fine, lightweight nets, and the RSFS 8 N or EL in a gauge of E 8 for producing nets for use mainly in commercial, large-scale fish-farming.

There has been an increasing demand from the sector for more heavy-duty constructions in particular. KARL MAYER was quick to spot this market trend and revamped its machinery for producing medium-weight nets to incorporate a model having a gauge of E 6.

The new RSFS 8, with a gauge of E 6, is equipped with reinforced compound needles and guides, which enable it to process extremely high yarn counts.

7,500 dtex per guide and 15,000 dtex per compound needle can be processed on this sturdy, robust machine – at a speed of up to 500 min-1, depending on the lapping, material and width of up to 260".

A wide range of constructions can be worked, including standard and super- knots, and single or double connecting pieces with square, rhomboidal or hexagonal openings.

If the machine is equipped with the EL control facility, the article can be changed over in just a few minutes.

EL control of the guide bars, together with the Multispeed let-off and fabric take-down systems, guarantee maximum flexibility and minimum setting-up times.

Handling long chains and producing and storing the chain links have now become a thing of the past! Different stitch densities in the connecting sections and knots can be worked just as easily as the edges can be incorporated directly into the nets.