Weavers struggle to keep alive traditional skills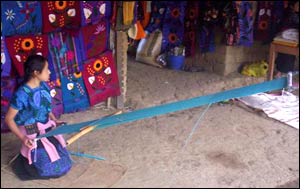 The weaving industry in Guatemala is dying a slow but gradual death. Lack of acknowledgement for their skills, poor remuneration and receding demand is forcing most of these weavers to look out for better alternatives.

Astoundingly, even now, that the cost of living has gone so high, weavers in Santo Domingo de Xenacoj village of Guatemala fetch only about US $0.20 per hour.

With the advent of globalization, importation of low-cost textiles is being forsaken and the traditionally weaved garments of weavers happen to come in this category. However, the Indigenous Ministry's National Commission of Guatemala or CONAPI has been essaying to bring some relief by means of development project and financial help.

Faced by these challenges weavers are finding it difficult to sell off their goods and are forced to get into cloth manufacturing factories as workers.

However, there is still a ray of hope if potential export markets for these goods are identified and skilled weavers organized to produce value-added products with criteria that suits international demand. Besides, organizing fair trades would also help weavers to display their goods to a larger mass of buyers and thereby ensure a substantial sale.