Montex meets demands for top quality wool finishing in Brazil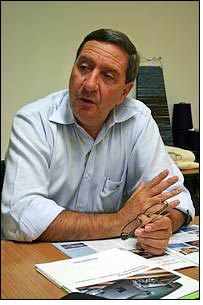 A Monforts Montex stenter is able to meet the highest finishing demands with 100% wool and wool mixes produced by South America's leading producer Paramount Texteis, for its range of luxury wool fabrics.

Following three years of development, South America's leading high quality wool fabrics producer, Paramount Texteis is meeting production demands of 20,000 m / year for its type 150 wool. The luxury quality fabric is highly sought by leading designers of men's' suits for discerning and prestigious customers throughout the United States and South America.

With up to 20 operations in the preparation and production of the Super 150 fabric from weaving to completion 'out the door,' the demands for the highest quality finishing of the Super 150 are met by a Monforts Montex stenter.

The wool is generally passed through the stenter twice, once prior to dyeing and a second time for finishing, including cleaning, shearing and fabric stabilisation.

According to Gian Carlo Giachaero, an Italian consultant and specialist in wool finishing, based in Biella, Italy, there is always a problem in maintaining the correct tensions as well as the humidity with wool production of this quality.

"Thanks to the Monforts Qualitex Plc control system automatically controlling functions such as temperature, humidity, air flow and speed, the stenter is continuously regulated to the specified 8% humidity and is therefore, no longer a problem."

Typically the Super 150 is passed through the Montex at speeds of just 20-25 m / min in rolls of a maximum 60 m and 1.5 m widths.

Lycra mix:
Recent years has seen considerable development in wool and lycra mixes by Paramount using both imported and spun on-site lycra utilising a 4% mix.

During finishing, the stenter speed is reduced further to around 18 m / min and the temperature is automatically increased. For example, during the thermofixation process, it is raised to 185ºC.

According to Finishing Manager Roque Oltôrio the Montex has passed more than 1 million metres over the past 12 months with production comprising a mix of wool and lycra plus Super 100 and Super 200 pure wool, and around 20,000 m of Super 150.

Santa Isabel:
Paramount Texteis' Santa Isabel facility some 60 km east of Sao Paulo, is a fully vertical integrated operation combining spinning, weaving, dyeing and finishing in a double shift operation, six days a week.

Paramount Téxteis specialises in high quality products, producing pure wools such as Super 100, 120, 130 and 150 quality, together with blended wool quantities such as wool with cashmere and wool blended with silk. The company also produces wools in combination with Lycra and other synthetic material.

Special emphasis is placed on continuous inspections and quality controls throughout all processes.

Paramount Téxteis can trace its roots back more than 100 years. Today it has five plants throughout Brazil, employing over 3000 staff and is one of the leading textile producers in the region.