Textiles Industry achieves 16% growth rate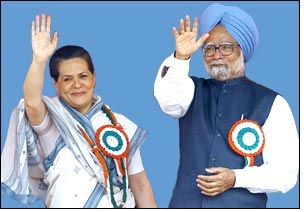 The Investments in the textiles sector are expected to reach Rs. 1,50,600 crore by 2012 and this enhanced investment will generate 17.37 million new jobs in the textiles sector.

Addressing at a function in Kolkata after releasing the booklet tilted "Indian Textiles- The Sunrise Sector, highlighting the achievements of Textiles Sector during the four year tenure of the Government, The Minister for Textiles, Shri Shankersinh Vaghela said that the Indian textiles industry is in a stronger position than it was in the last six decades due to sagacious guidance provided by Smt. Sonia Gandhi, Chairperson, United Progressive Alliance (UPA) and Dr. Manmohan Singh, Prime Minister.

The industry which was growing at 3-4 percent during the last six decades has now accelerated to an annual growth rate of 16 percent in value terms and will reach the level of US $ 115 billion (exports US $ 55 billion; domestic market US $ 60 billion) by 2012.

Shri Shankersinh Vaghela said that the biggest achievement of the UPA Government was to turnaround the Indian Textiles from Sunset to Sunrise sector.

The catalyst for this exponential growth is a buoyant domestic economy, substantial increase in cotton production, the conducive policy environment provided by the Government, and the expiration of the Multi Fibre Arrangement, MFA on December 31, 2004.

The rationalization of fiscal duties undertaken during the last three years has also provided a level playing field in all segments of the industry, resulting in the holistic growth of the industry.

The Minister said that in retrospect, it can be said that the nineties were a watershed period for the Indian textiles industry.

This was the time when, in anticipation of the termination of the Multi-fibre Arrangement (MFA), the industry started scaling up, improving efficiencies and modernizing technologies.

Within one year of the MFA regime coming to a close on December 31, 2004, Indian exports grew at a staggering rate of 22%. Though, this growth rate slowed down in subsequent years, opportunities in the shape of newer, larger markets, and products, have remained.

The exports of textiles and clothing during 2004-05, 2005-06 and 2006-07 were US$ 14 billion, US$ 17.52 billion and US$ 18.73 billion respectively. These were US$ 21.46 billion in 2007-08, registering a growth of 12.10% in dollar terms, he added.

Shri Vaghela informed that the Indian Textiles Industry has suffered from severe technology obsolescence and lack of economies of scale, which in turn diluted its productivity, quality and cost effectiveness, despite distinctive advantages in raw material, knowledge base, and skilled human resources.

The UPA Government gave a renewed impetus to the implementation of the Technology Upgradation Fund Scheme (TUFS) and subsequently extended upto March 31, 2012. During its initial years, the progress of the scheme was moderate and it gained momentum from 2004-05 onwards.