Revolutionary textile processing machine 'AIRO24' at ITME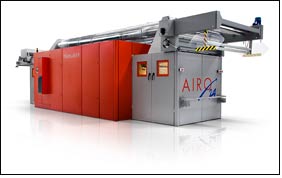 The success of the new open-width continuous AIRO®24 from Biancalani confirms the leadership of the Italian company, that always believed in the power of its ideas. The proven capacity of innovation at Biancalani S.p.A., located in Prato-the italian area with the highest textile concentration - is deeply rooted into its experience, which has been growing throughout the many years thanks to the active role played by all its partners.

From the textile companies who trusted a concept, that later on proved to be a winning one, to the company members that were able to transform ideas into competitive solutions.
Junior cub of a renowned family, the young and powerful AIRO®24, born from twenty years of AIRO® experience, made its roar heard at the latest ITMA 2007 in Munich, revealing it's aggressive and mild temper, its strong and sparing character, and confirming the value of Biancalani experience and design skills within the traditionally trial-and-error scenario of Italian textile machinery.

Now you can have a look and touch the effects on fabric samples, obtaining more information about this new technology, meeting Biancalani people and their indian agent Bakubhai Ambalal staff at ITME Bangalore 2008 exhibition, Hall 2 - Booth B110.

Nothing in AIRO®24 was left to chance: from the design of straight and clean aerodynamic paths, symmetrical, even and neat, to the clever and flexible system with independent airflow-routing valves, to details that at first might seem of secondary importance, like the noise absorbing paneling and their bright color, with the logo composed by an arrow (representing the speed) and a circle (symbolizing continuity, also meant as absence of interruptions).

The machine owes its efficiency and its energy-savvy attitude to the aerodynamic path, that eliminates dispersions and resistances ensuring an even and balanced fabric movement and treatment, and therefore perfect uniformity and effectiveness of the AIRO® effect. This solution, realized by Biancalani and covered by international patents, allows to obtain remarkable energy savings by driving the air in a natural way, without any moving device that could have generated dispersions or increases in airflow resistance with consequent turbulences and possible uneven distribution of the fabric treatment.

The use of different airflows above and below the fabric provides a higher degree of flexibility when processing all different kind of materials, from light and delicate fabric (silk, viscose) to heavier ones (upholstery), from technical and synthetic (nylon, flame-retardant work suites, man-made leather) to natural ones (with cotton in pole position) in any construction, from canvas to velour and plush, to terry towels, for which the high drying capacity of AIRO®24 and the effective loop straightening action produces the highest results, in terms of quality and quantity.