Vibrant Gujarat Summit to prove hotbed for investments in textiles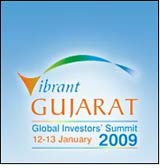 A biennial event, Vibrant Gujarat is to be organized by the Government of Gujarat, India in January 2009. Event is aimed at bringing together business leaders, investors, corporations, think-tanks, thought leaders, policy and opinion advocators. The summit serves as a perfect platform to understand and explore business opportunities in the state of Gujarat.

As a precedent of echoing success, Vibrant Gujarat is poised to attract several companies from Asia and Europe to establish their presence in Gujarat. For instance, in the 2003 Global Investors' Summit, a total of 76 MoUs worth US $14 billion were signed. Moving ahead to 2005, the summit saw signing of 226 MoUs garnering an investment of US $20 billion and the 2007 summit witnessed 675 MoUs worth a staggering US $152 billion being signed.

The government has planned aggressive initiatives in the year 2009 and would intensify its approach compared to what it started off six years ago. The state will be propelled in to the next stage of the development process with a focused approach along with intensive growth in the socio-economic index.

The textile industry contributes as much as 6 percent to the industrial production of the state and also has to its credit installations of over 40,000 multi-head embroidery machines in the world, in a single city; Surat in the last 3 years. It also accounts for 12 percent of all textile exports from the country and has a well developed infrastructure for the textile industry, consisting of 18 product clusters, 5 dedicated Special Economic Zones (SEZs) and six industrial parks.

It also goes to the credit of the state that there are manufacturing units spread across the whole value chain from cotton and fibres to garments. The opportunities for the future are many in the state; to name a few; modern energy efficient textile processing, garment manufacturing, technical textiles and innumerable prospects in collaborations for technology transfer and acquisitions.

The main event opens on January 12 and will run till January 13, 2009. Investors can expect to have one to one meetings from within and outside the industry with industry leaders, policy makers and foreign delegates.

Visitors will also get the opportunity to view a mega exhibition showcasing the strengths, potential and innovations from among industries in Gujarat like textiles, garments, pharmaceuticals, information technology and a host of other sectors. The seminar on "Textiles & Apparels Destination Gujarat for Competitive Textiles & Apparel Manufacturing" is scheduled on the second day of the summit; January 13 from 10.30 A.M to 1.30 P.M.

The discussions will be spread out on a host of topics with an eminent panel of speakers. The topics range from "Potential of Technical Textile" by Mr CK Wong, Chairman, U.S. Pacific Nonwovens Industry Ltd. Hong Kong to "An approach to become Competitive in Synthetic Textiles", by Mr Sanjeev Saran, Chairman, The Synthetic & Rayon Textiles Export Promotion Council, Mumbai.