Contrary to opinion cotton likely to be bullish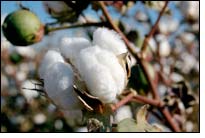 Following the long awaited March 31st planting intentions report on Tuesday, it was off to the races for all row crops, including cotton due to a shocker in the other commodity numbers. For cotton it became of week of strong speculative buying encourage first off by a nearly textbook chart pattern.

Specs were also encouraged by bottoming action in the CRB Index of 19 commodities in general. During March, the dollar had a bearish reversal when the dollar traded first above February's high before falling below Februarys low. Increased talk of inflation added even more credibility to the dollar's weakness.

After dipping on Monday on technical considerations, cotton followed the other commodity (soybean) led row crop rally. The ensuing rally took May predictably to 12 cents over the AWP. Once that hedging was satisfied, May moved also predictably to 13 cents over the AWP.

By the way, the AWP was raised 70 points this week effectively raising the bar for resistance from AWP related hedging due to loan redemptions. However, the AWP is widely anticipated to rise another couple of cents next Thursday afternoon as USDA makes freight adjustments. Over the last two weeks, nearly 2.9 million bales have been redeemed with hedging slowing the bull run but capping it only fleetingly..

For a change we had encouraging economic news coming from the G-20 and word that the Accounting Board was relaxing the "Mark to the market" rules for banks. And finally, most encouraging is the strong suspicion that export business has not dried up with the market rally.

Exports this last week were terrific with shipments the best of the marketing year. One of the fears the last couple of months has been the possibility that India and China might unload their government owned stocks. Both turned out to be buyers of US cotton on last weeks report since their internal prices have shot up. Some now speculate that USDA might be prompted to raise their estimate of exports in he April Supply/Demand report.

However, at least in India where the government owns about 40 percent of their production, they now seem favorably disposed to begin to release some of their huge stocks at a discount since their domestic price is now above the Minimum Support Prices (MSP). According to wire reports, they are in need of both cash and warehouse space.

Open interest in cotton has climbed nearly 25,000 contracts this last month as specs and managed money returned to the market and hedging opportunities have increased. No doubt the specs will continue to buy as long as the market shows technical strength and commercials will raise their hedging levels as long as the AWP continue to rise and export demand remains good.

The Contrary Opinion for cotton ended the month of March with still showing only 27 percent of market opinions bullish; up only slightly from a low of 21 percent the first two weeks of the month. On last weeks Spec/Hedge report specs were still net short. I suspect after last weeks very constructive performance both of those indicators will show a dramatic shift.