Multilevel 'Green' security garment label launched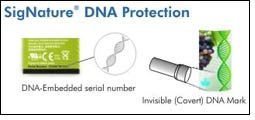 Applied DNA Sciences, Inc., a provider of DNA security solutions, announced that it has launched a unique woven garment label based on its SigNature DNA anti-counterfeit technology. Woven labels are highprofile brand carriers and offer an excellent vehicle for brand protection.

Protected by patents and proprietary trade secrets, SigNature DNA provides:
- Environmentally friendly, "green" technology based on botanical DNA
- Anti-Counterfeit protection: cannot be copied, viewed under microscope, digitally scanned or re-engineered
- Forensic Proof of Authenticity
- Affordable applications.

Marketed as Nil-Secure/SigNature DNA, this revolutionary woven label has been developed in collaboration with three partners: Nilorn UK, BrandWatch Technologies (Portland, OR) and Addmaster (UK). Now, brand owners have a pro-active solution in their arsenal to deter counterfeiters and maintain the highest quality standards in every product sold.

"It's what brand owners need right now -- our label is absolutely secure, reliable and can be authenticated quickly," Steve Ablett, Managing Director, Nilorn UK. "Top apparel and brands can take the issue of counterfeiting into their own hands by staying innovative and utilizing the
world's best security solutions."

Hundreds of millions of garment counterfeits are in the market. Few of the authentic, original garments actually integrate brand security measures. Standard apparel holograms on garment hang-tags are easily copied and in most cases cannot be distinguished from the genuine article. Fake holograms are turning up everywhere. In the US, the FBI "is aware that individuals and/or criminal enterprise organizations are actively involved in the production of holograms" (National IP Law Enforcement Coordination Council, 2006). The UK counterfeit market is estimated to be about GBP 11 billion per year (Global Anti-Counterfeiting Group, 2008) with global estimates of over $600 billion per year. China remains the main source of counterfeit goods, with almost 60% of all articles seized originating from that region.

Phil Huff, CEO of BrandWatch Technologies, stated: "Our technical leadership in UCPs is a perfect complement to SigNature DNA. Both technologies have been rigorously tested, and proven to be safe, exceptionally stable, able to withstand multiple launderings, and extremes of pH and temperatures."

Paul Morris, Managing Director of Addmaster, stated, "There is always a risk that if you buy a knock-off garment... it could contain harmful dyes -- which may be allergenic or even carcinogenic. This is precisely the reason why the Nil-Secure/SigNature DNA woven label is needed. Consumers need to know that what they are wearing is safe and it is guaranteed to be the official garment."

Our Partners
Nilorn UK is part of the Nilorn Group, a global company, established in the 1970s, with expertise in adding value to brands through branding and design in the form of labels, packaging and accessories, principally for customers in the fashion and ready-to-wear industry.