'Cheap carpet imports ruining market & environment – CEO, Transasia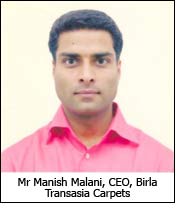 Going against the said policy of the country to save the environment, cheap synthetic carpets are being dumped in the Indian markets, which is directly affecting the livelihood of around155,000 carpet weavers across the country. The turnover of the carpet industry has grown from Rs 8 billion in 1980 to Rs 40 billion currently. To add to the woes of the industry, is the slowdown in global trade which has affected carpet sales to a great extent.

Speaking exclusively to Fibre2fashion, Mr Manish Malani, CEO of Birla Transasia Carpets Ltd, which has a manufacturing capacity of 150,000 square meters per year said, "Due to the global recession the export of carpets to America and Europe from India has drastically reduced and at the same time due to heavy imports of synthethic carpets, the local market is shrinking for domestic carpets".

He added by saying, "The government had imposed restrictions on imports of woolen carpets in India, with an intention to protect domestic carpet producers. This purpose is being defeated because of the heavy imports of machine made synthetic carpet in the country and global recession is adding to the troubles of the local manufacturers, resulting in closing down of or reducing production capacities".

To a question on problems ailing the sector, he categorically said, "Synthetic carpets are mainly being imported from the Gulf countries and China. The Gulf has cheaper petroleum products and the government also provides a tax holiday. This gives an edge to the manufacturing companies based there to be more competitive compared to the other carpet manufacturers of synthetic carpets".

"Those carpet manufacturers can reduce their material cost and are able to dump these synthetic carpets mainly into the developing countries like India as they are 15–20 percent cheaper, compared to the woollen carpets and much cheaper when compared with the expensive varieties like silk carpets", he explained.

When asked about the support the sector expects from the government, Mr Malani said, "The government should impose anti-dumping duties on the import of synthetic carpets to protect domestic carpet manufacturers, alternatively it can also impose restriction on importing for trading purpose as they have done in case of woollen carpets. This will help the local manufacturers to survive in the present recessionary period".

Coming down heavily on the government Mr Malani added by saying, "The government should also take strong action against the import of synthethic carpet as the disposal of these carpets, adds to heavy pollution and contributes to the global warming. Synthetic carpets when burnt, emit poisonous gases like carbon-dioxide and are not bio-degradable when dumped in to landfills".

"If our government is working so hard on the disposal of plastics, why should they not take some serious action against synthetic carpets which are being imported in to our country", he asked and demanded off the government.