Daily worldwide cotton market report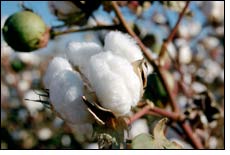 Last night in New York futures market, July 09 closed at 58.17 with a gain of 12 points with a volume of 13261 contracts, the October 09 closed at 60.05 with a gain of 12 points and a traded volume of 78 contracts, while the December 09 closed at 60.80 with a gain of 3 points with a business volume of 3027 contracts. The Cotlook A index declared settled at 62.10 with an increase of 60 points.

The spot rate of KCA remained firm and strong with the settlement declared at Rs. 3600/= , with no changes today. In the domestic market today 800 bales of Multan sold at Rs. 3550/= , 400 bales of Sadiq Abad changed hands at Rs. 3700/= , 1714 bales of Rahim Yar Khan sold at Rs. 3700/=, while 1140 bales of Bure Wala sold at Rs. 3600/=.

Increased concern has been reported in Tajikistan due to inclement weather on the cotton crop. As of May 1st, approximately 135,000 hectares had been planted against a target of 200,700 hectares.

While there has been no indication of a failure to the 9-week uptrend, the heavily overbought momentum keeps us defensive at current levels. This is still room for some additional upside progress near term. However, the technical momentum is as overbought since the high was registered last March.

According to an article from a business daily, the ISM service sector index shrank less than expected in April due to improved jobs and orders. The gain indicates the recession may be nearing a bottom, the article stated. The prices paid index was up, but inflation will likely remain subdued, according to the article.

Turkey's textile and clothing exports were further collapsing in April with no sign of a possible recovery so far. Relocation of the Turkish industry could be accelerated amid bankruptcies. Our series of statistical data are also indicating a strong rise in sales to Spain and Italy in the last three years while declining to Germany.

Cotton yarn prices are rising in Pakistan, mainly due to stronger demand from the Far East and Europe combined with a sharp increase in future bed linen production. Polyester staple fibers were also increased with blended yarn prices on the rise, as reflected by the series of statistical data sent by our Pakistan Correspondent.

Spandex prices are finally bottoming out in China, thanks to lower inventories and stronger demand from domestic and export markets. Raw material costs also increased in the spandex pipeline in the past two weeks, including benzene, MDI, BDO and PTMEG prices.

Ghulam Rabbani & Co.