Accent on Design to celebrate 25th year with new exhibitors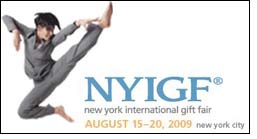 Companies from Europe and five different U.S. states will debut at the summer 2009 Accent on Design, bringing a fresh infusion of home & office accessories to the 25th anniversary edition of New York International Gift Fair's (NYIGF) contemporary design-driven division, August 15-20, at New York City's Jacob K. Javits Convention Center.

"Accent on Design has become the standard-bearer for design-driven gift, home and lifestyle products," said Dorothy Belshaw, NYIGF director and GLM senior vice president. "For 25 years, Accent on Design has demonstrated an unwavering commitment to the discovery and presentation of emerging designers and innovative and unique resources."

Seven new companies have confirmed their participation in the summer edition of Accent on Design, and four design-leading companies - notNeutral, OYUNA Cashmere, R&Y Augousti and GILLES CAFFIER -are returning to Accent on Design, following an absence from the market. New designers include: neo-utility, Brooklyn, NY (office/desk supplies) Etcetera Media + Etcetera Media Goods, Boston, MA (felt accessories)DESU Design, Brooklyn,NY (Tabletop) Snow Peak, Clackamas, OR (flatware and accessories)Touch, Los Angeles, CA (accessories)Pad Outdoor, Los Angeles, CA (furniture & accessories) Geneva, Wheeling, IL (speakers).

To commemorate Accent on Design's 25th Anniversary, NYIGF participants are invited to gather at the Museum of Modern Art (MoMA) for a complimentary viewing on Saturday, August 15, from 3:30pm - 5:30pm. Buyers and suppliers may visit MoMA for free at any time during summer 2009 Market Week, upon presentation of a summer 2009 Market badge, compliments of NYIGF, 7 West New York, 41 Madison and 230 Fifth Avenue. MoMA is located at 11 West 53 Street, between Fifth and Sixth Avenues.

STUDIO Moves Next to Accent on Design
The STUDIO division, a showcase of some 75 fashion-forward, cross-category lifestyle merchandise suppliers, will be repositioned at the Javits Center, alongside Accent on Design beginning in August 2009. This move creates buyer-friendly synergies between NYIGF's on-trend and contemporary design divisions, both of which are characterized by their fresh and sophisticated aesthetics.

In line with these changes, the Accent on Design floorplan has been reconfigured and refreshed. Jonathan Adler, Umbra, Wabnitz and Mint, all established leaders in contemporary design products, are moving to up-front exhibit floor positions; and City Limit and The Sarut Group are expanding their presence at the Fair.

A+: The Young Designer's Platform
The A+ exhibit, launched in winter 2008, serves as an "incubator" program within Accent on Design, introducing the work of promising designers; including students, recent graduates, or young companies, selected on the basis of design concept, creativity and originality. In the upcoming edition, the participants will be drawn from the membership of the American Design Club (AmDC), a professional community of American designers founded 2008 to heighten awareness for emerging designers and provides exhibition opportunities. Companies accepted to A+ will be announced in June.