Plasma technology can contribute to sustainability in textiles – PEGAS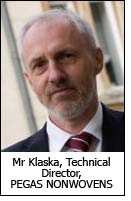 Textile industry is always searching for innovative techniques to enhance fabric qualities and increase its functional aspects. Apart from the basic functions of covering the human body, textiles protect people from dangerous environments also. Protective clothing requires more focus, as the wearer is exposed to vital situations if the main functionality of the garment was to fail.

Innovative applications of plasma technology in textile fabrics augment them with quality, productivity and environmental compatibility and to learn more about the current trends and new applications, Fibre2fashion spoke exclusively with Mr. Frantisek Klaska, Technical Director at PEGAS NONWOVENS, one of the leading European producers of synthetic nonwoven textiles from polypropylene or polyethylene filament.

PEGAS NONWOVENS was established in 1990 as a totally new, exclusively Czech private company. The production of non-woven textiles was its sphere of activity practically from the very beginning and it still is to the present day.
In 2002 the Company's product assortment was extended by the production of bi-component nonwoven fabric on the basis of polypropylene and polyethylene.

We started the interview by asking him as to how much the application of Plasma technology has progressed in the textiles sector in the last few years to which he said, "We see the application of plasma technology in the combination with a topical treatment as a progressive step, especially in nonwovens technology, where the production speed has dramatically increased in the last few years, plasma can play a significant role as physical pre-treatment in order to improve adhesivity of the surface prior to the next treatment by fluid chemicals".

He continued explaining, "We believe that plasma can be used also for several applications in the textile segment. Plasma units and related equipment have successfully passed the development stage and can be used commercially as an optional technology and currently, you can find commercial plasma units in even traditional textiles as a support of lamination, cross linking of chemicals or as a surface changer".

We next asked him the most crucial question as to why plasma technology should find global acceptance over other competitive applications to which he explained, "We see that plasma is bringing today some benefits for the topical treatment and the main effect is the improved durability of chemical treatment and avoiding the wash out effect along with which Plasma pre treatment can also lead to a reduction in chemical consumption".

"This is currently a very important contribution to the sustainability policy in the textile industry, especially since the atmospheric pressure plasma units do not need special conditions and energy costs are also acceptable", he said.