New Union Textiles Minister vows to create 10 mn jobs in sector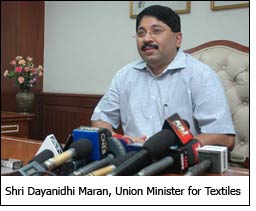 Shri Dayanidhi Maran assumed the charge of Union Minister of Textiles here on June 01, 2009.

Speaking to media persons after assuming the charge, Shri Maran said that there are many challenges before the textiles sector. The Government will impart momentum to this US$ 52 billion industry (US$21 billion exports and US$31 billion domestic market) by striving to achieve a growth rate of 8 to 10% per annum., the minister added.

The new Government is committed to transform what is today an emerging or sunrise sector, into a developed industry. Listing out the thrust areas, the Minister said that the new Government in coming years will focus to achieve the following major targets in textiles sector:

(i) Strive to create one crore employment opportunities in the sector,

(ii) Build world-class, state-of-the-art, manufacturing capacities; and achieve a dominant global standing in the manufacture and export of textiles and clothing.

(iii) Equip the textiles industry to withstand the pressures of import penetration, and maintain its dominance in the growing domestic market.

(iv) Enable small & medium enterprises (SMEs) to achieve competitiveness and enable them to face the global scenario with confidence.

(v) Emphasis will be given to set up new centres of National Institute of Fashion Technology (NIFT) in proximity to traditional textiles regions.

The new Government will design the following multi-disciplinary strategy to meet the above objectives, said the Minister:
a) Consolidate the raw material base through the vigorous implementation of the Technology Mission on Cotton (TMC), the Jute Technology Mission (JTM), the Integrated Wool Improvement & Development Programme (IWIDP), and the Catalytic Development Programme (CDP).

b) Continue with modernization and the technological upgradation of different segments of the textiles industry through the Technology Upgradation Fund Scheme (TUFS).

c) Create a textiles-specific infrastructure by establishing Integrated Textiles Parks.

d) Continue with and stabilize the process of fiscal reform, thereby encouraging fresh export and private investment in the Sector.

e) Accelerate the process of leveraging the assets of PSEs to fund already approved rehabilitation schemes.

f) Review and revamp the schemes being implemented for the welfare of handloom workers and handicraft artisans, and substantially increase the allocation in the Union Budget.

g) Initiate measures to attract Foreign Direct Investment (FDI), particularly in the textiles machinery and in garmenting, synthetic and technical textiles segments.

h) Liaise with the Organizing Committee of the Commonwealth Games to ensure concerted and meaningful representation of Indian handlooms and handicrafts. This will be achieved through live demonstrations by artisans, setting up of Shilp Bazaars at the games venues, Apparel designing for athletes and support staff by National Institute of Fashion Technology (NIFT), and supply of gift memento and souvenir.