Designers wanting to expand their business in China join the fair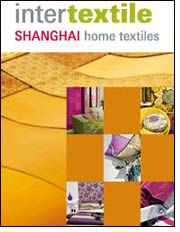 Asia's top home textile trade fair, Intertextile Shanghai Home Textiles returns to the Shanghai New International Expo Centre on 25 – 27 August 2009. With more than 700 confirmed exhibitors, the show will feature home textile products from floor to ceiling at over 100,000sqm trade space, offering suppliers and buyers an unbeatable business platform.

Government implements measures to protect designers from intellectual property rights infringement

China's consumption market is still going strong amidst the economic downturn. High home ownership rates and increasing disposable income nurture the growth of middle class with passions in lifestyle and designed products. To ensure legal protection of the original designs and products, China has established an intellectual property legal system which covers the areas of patents, trademarks, copyright and unfair competition. Late last year, following a comprehensive study, the government revised its Patent Law to tighten the requirements for granting a patent, expands the rights granted under a design patent, and increases the infringement penalties.

To enter the Chinese market while gaining maximum protection for their creations, overseas designers and manufacturers can apply relevant intellectual property registrations for their designs and new products. Those who find their intellectual property rights being infringed can seek administrative protection or undertake legal proceedings in China.

As organisers of the Intertextile Shanghai Home Textiles, Messe Frankfurt and the Sub-Council of Textile Industry – CCPIT have taken serious approach to protect exhibitors' intellectual property rights. Before the fair, the organisers require each exhibitor to sign a Letter of Commitment on Exhibition Intellectual Property Rights, in which they undertake not to violate the legal intellectual property rights of any third party. They also agree to abide by the organisers' handling procedures should a dispute arise.

During the fair, an intellectual property rights office will be set up on-site to handle enquiries and disputes regarding intellectual property rights. Should any such dispute arise among exhibitors, the office would then conduct an investigation according to its handling procedures. Should the suspicion of a rights infringement seem obvious to the investigator, the organisers will then require that the subject exhibits be removed or covered.

Designers wanting to expand their business in China join the fair

Recognising the manifold business opportunities in China, famous designers from Italy, France, Japan, Korea, Germany and more will showcase their latest designs in the specially crafted Designer's Studio. One of the UK designers Mr Simon Ashby thinks the fair is a great place to do business.

"I believe Intertextile Shanghai Home Textiles offers us a fantastic opportunity to meet customers from around the world as well as Chinese manufacturers. China's home textile market is very important, there are many quality manufacturers out there to work with in producing some fantastic designs. The style and sophistication of the products keep improving year-on-year," said Mr Ashby.