WACKER DYMATIC Silicones commissions new silicone emulsion plant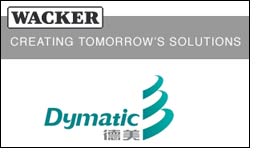 WACKER DYMATIC Silicones, a joint venture between Wacker Chemie AG (Munich, Germany) and DYMATIC Chemicals Inc. (Shunde, China), has commissioned a new silicone emulsion plant. It is located at the company's new headquarters in Shunde (Guangdong province) and has an annual production capacity of some 4,500 metric tons.

The specialty chemical company plans to increase its supply of silicone emulsions to southern China's textile, fiber and leather industries and to further enhance its market position. In addition to the emulsion plant, a warehouse and offices – the company headquarters – for the 30 staff members were erected at the new site.

"WACKER DYMATIC Silicones had previously used DYMATIC Chemicals' infrastructure in Shunde. But the company needs its own site for further successful growth," explains Dr.Christoph von Plotho, head of the WACKER SILICONES division. "The new plant allows us to further expand production at Shunde and to supply our customers in southern China even more effectively, thus strengthening our position as a leading supplier of silicone emulsions in this region."

In May 2008, WACKER DYMATIC Silicones already opened a plant for silicone emulsions and process auxiliaries in Zhangjiagang (Jiangsu province) to supply the Chinese textile, fiber and leather industries. "The two facilities will allow us to respond even faster to Chinese market needs, optimize local customer support and provide silicone products that meet international quality standards," said Tony Huang, DYMATIC Chemicals' board chairman.

Silicones are often essential both for imparting certain product properties in the manufacture of textiles, leather and fibers, and for ensuring that the production processes themselves run smoothly. In textiles, for instance, they confer special properties such as smoothness, gloss, a soft hand, fullness and elasticity, while offering high functionality like water repellency, easy-care behavior and longlasting freshness. Processing benefits include easy sewability, faster process flow for greater efficiency and safety, and effective foam control for smooth processes and enhanced cost-effectiveness, without sacrificing high product quality.

WACKER SILICONES, one of WACKER's five business divisions, is a world-leading silicone manufacturer with over 3,000 highly specialized and innovative products. The division's portfolio ranges from silicone fluids, emulsions, resins, elastomers and sealants to silanes and pyrogenic silicas. These products stand out due to their significant value-adding potential – enhancing both the benefits and performance of customers' end products. Products from WACKER SILICONES find application in such sectors as construction, chemicals, cosmetics, textiles, automotive, paper and electronics.

DYMATIC Chemicals Inc. is one of China's leading producers of textile auxiliaries and other fine chemicals. Founded in 1989, the company operates more than 10 sites across China and has full product development, manufacturing, marketing, sales and technical support capabilities.