Clariant assumes global economy will only slowly recover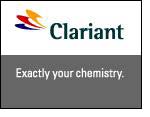 Clariant, a world leader in specialty chemicals, announced sales of CHF 1.691 billion in the third quarter, compared to CHF 2.094 billion during the same period in the previous year. This represents a 19% decline in Swiss Francs, and 14% in local currency.

Sales stabilized during the third quarter. Although there was a modest pick up in some businesses and regions, overall demand remained at low levels with no signs of a sustainable upward trend. Volumes declined by 11% and prices were 3% lower compared to the third quarter 2008. Raw material costs were 16% lower compared to the same period a year ago, but 1% higher compared to the second quarter 2009. The costs of capacity underutilization were lower than in the two previous quarters as a consequence of higher utilization rates, the shutting down of plants and a reduction in workforce - either temporarily or permanently.

CEO Hariolf Kottmann commented: "The focus on improving cash flow, decreasing costs and reducing complexity continued to have a positive impact on our results. Sales declines of more than 20% in some businesses indicate that despite a stabilization in demand we are still far from a sustainable recovery. In this environment, our cost savings have not yet been sufficient to fully compensate for the demand weakness. As we need to close the performance gap to our peers and as we don't see a sustainable recovery in our industry in the next quarters, we will continue to implement additional restructuring and cost saving measures."

Despite the pressure on volumes, Clariant maintained a stringent focus on managing its gross margin which increased to 30.1% from 29.4% in the previous-year period.

CFO Patrick Jany commented: "While we have mitigated the impact of the economic crisis on our gross profit, the risk of possible gross margin erosions in the months to come has risen due to increasing raw material costs. We will closely observe this unfavorable development and defend our margin. If necessary, we are ready to deal with potential volume impacts by further reducing production capacities."

Sales, General & Administration (SG&A) costs decreased to CHF 373 million from CHF 404 million a year ago, basically as restructuring efforts began to show a positive impact on the P&L. As a percentage of sales, SG&A remains high at 22% compared to 19.3% in the previous year period. Despite an improvement in SG&A costs, the lower gross profit led to an operating income before exceptional items of CHF 107 million compared to CHF 178 million in the previous year period. Compared to the second quarter 2009, the operating income before exceptional items further improved from CHF 69 million.

All Divisions contributed to the recovery in operating income before exceptional items over the last three quarters. The Masterbatches Division benefited from a demand recovery that was stronger than in the other Divisions. The Pigments & Additives Division also experienced some recovery of order intake but from an extremely low level in both the first and the second quarter. The stringent focus on restructuring as well as a slight recovery in demand - in particular in the Textiles and Leather businesses - led to an improved profitability of the Textiles, Leather & Paper Chemicals Division. The Functional Chemicals Division benefited from a satisfactory development in its Industrial & Consumer Care and Oil Services businesses.