Ananta features traditional skills of the rural women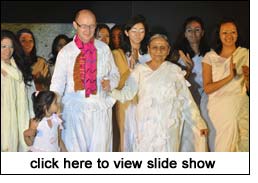 SEWA has been organizing the women workers in the informal economy. With a membership of 1.1. million, today SEWA is India's largest women workers organization. SEWA's goals are full employment and self reliance of its members. SEWA also strives to achieve its objective of self reliance. The members do not remain workers or producers but also become the owners and managers of their own Trades and enterprises.

With this objective SEWA has set up SEWA Trade Facilitation Centre a business organization owned by 15,000 artisan women – members of SEWA. These artisan women are the owners and managers/ shareholders of SEWA Trade Facilitation Centre.

STFC facilitates the shareholders in accessing the best of technical, design and marketing services. Thereby equipping and enabling the women artisan shareholders enter into mainstream National and International markets. STFC has launched its brand "Hansiba" named after our artisan, a skilled crafts woman. "Hansiba", the brand owned by the women artisans, works towards maximizing of the incomes and earnings of the artisans. "Hansiba" promotes the rich traditional skills of the artisans and translates it into better education nutrition and shelter for the rural women artisans and their children. "Hansiba" brings to the market exquisitely designed garments home furnishings and accessories, where the rural women artisans work together with the designers of international repute.

As the World at large is confronting the two major challenges – the economic crises and climate crises. SEWA Trade Facilitation Centre's approach to equip the women artisan shareholder in mitigating the two crises is – by accessing new markets – by building new skills and – by Fashion for climate crises – by building National and International partnerships.

'Ananta' – a flamboyant stitch is an outcome of this approach of SEWA Trade Facilitation Centre.

STFC in partnership with Alliance Française, an International Organisation working on promoting Art and Culture, is striving to promote the traditional skills of the rural women artisans of Kutch and Patan – an integral part of the local culture of the communities.

'Ananta' means eternal stitch an effort to partner with International designers such as Graham Hollick – to connect local skills to global markets. Graham an International designer collaborates with the SEWA Trade Facilitation Centre women artisans in developing joint designs and collection using traditional skills and motifs.

In the process the women artisans also imbibe and learn design concepts, International design and fashion. The types of arts. What kind of local fabric and material can be used and converted into modern garment.

The women artisans and their next generation – young daughters and daughters in law discuss and learn – while designing the garment – the "Concepts of Fashion" and "Fashion designing". They learn quality and design standards.