US professor tries to make fibre from tea byproduct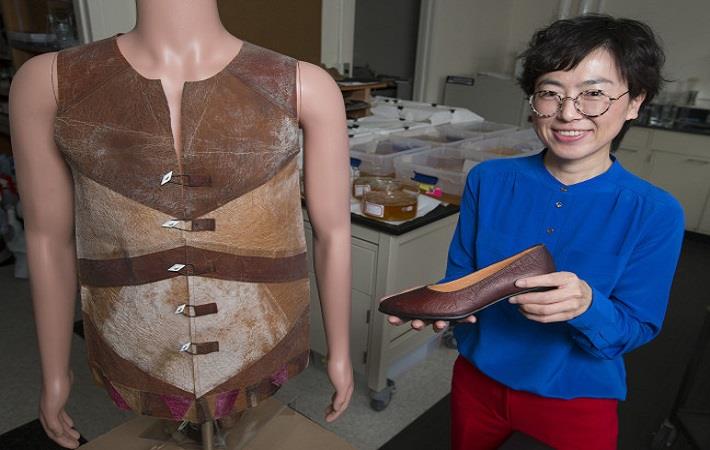 An associate professor at America's Iowa State University is on a mission to produce fibre from a tea byproduct.

Young-A Lee, an associate professor of apparel, merchandising and design at Iowa State, is carrying out her research inside one of the textile and clothing labs in LeBaron Hall.

Each plastic bin in the lab contains a gel-like film consisting of cellulose fibers – a byproduct of kombucha tea – that feeds off a mixture of vinegar and sugar. The film is grown by using a symbiotic colony of bacteria and yeast (SCOBY). Lee says the properties of this SCOBY film are similar to leather once it's harvested and dried, and can be used to make clothing, shoes or handbags, according to an article on the University's website.

In a chapter of the book "Sustainable Fibres for Fashion Industry," Lee writes about the results of her case study of cellulosic fibre. The material has been tested for other applications, such as cosmetics, foods and biomedical tissue for wound dressing, but it is relatively new to the apparel industry. The fact that the fibre is 100 per cent biodegradable is a significant benefit for the fashion industry, which by its very nature generates a lot of waste, Lee said.

"Fashion, to most people, is an ephemeral expression of culture, art, and technology manifesting itself in form. Fashion companies keep producing new materials and clothing, from season to season, year to year, to fulfill consumers' desire and needs," Lee said. "Think about where these items eventually go. They will take tremendous underground spaces of the Earth like other trash."

The cellulose fibre reduces waste by creating a continuous cycle of reuse or regeneration, what is known as cradle-to-cradle design, Lee said. Even if clothing is recycled or repurposed, it still eventually ends up in the trash. Lee envisions a truly sustainable fabric or material that is biodegradable and goes back into the soil as a nutrient rather than taking up space in a landfill. And using the SCOBY gives new purpose to the tea byproduct, lessening the fashion industry's dependence on nonrenewable materials.

Working with a novel fibre is not without its challenges. Lee and her research team received a grant from the Environmental Protection Agency to develop sustainable clothing and shoes from the harvested cellulosic fibre. They've conducted several tests to determine if the SCOBY-based cellulosic fibre is a viable alternative to leather for the fashion industry.

The tests revealed that one of the biggest problems is moisture absorption from the air and the person wearing the vest or shoes. The moisture softens the material and makes it less durable. Researchers also discovered that cold conditions make it brittle.