Whitefly attack sparks debate on Bt cotton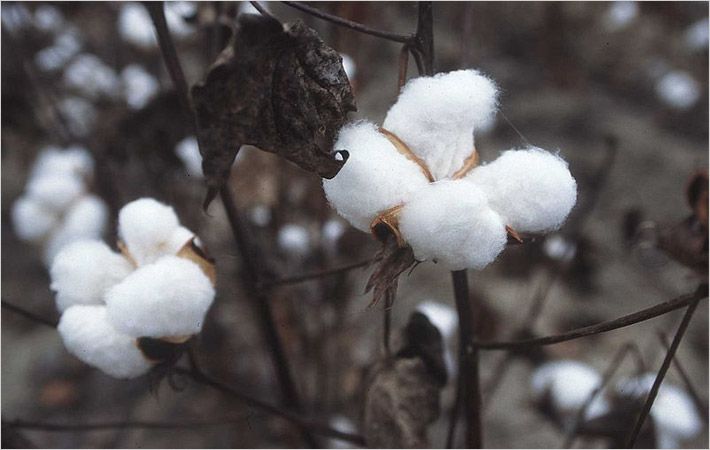 The wide scale destruction of cotton crop in Punjab and Haryana due to whitefly attack has sparked a debate on whether Bt cotton is suitable for India.

Two-thirds of cotton crop has been destroyed by whitefly in Punjab. The state has over 12 lakh acres under cotton cultivation, most of which is of Bt cotton variety. By some account, losses have been pegged at Rs 4,200 crore and more than 12 dozen farmers have committed suicide in the aftermath of crop losses, according to media reports. Activists blame the suicides on the crop damage.

Bt cotton was tweaked by scientists at Monsanto to produce its own insecticide to kill pests like bollworms. But two years of drought have encouraged the spread of whitefly against which the strain has no resistance. The winged pest damages the leaves of the cotton plant by sucking out fluid. Farmers claim that they sprayed different kinds of pesticides but none of them worked. Farmers are now worried that the pests may attack other crops such as chilli, vegetables leading to further losses.

The joint venture between India's Mahyco and a local unit of Monsanto has sub-licensed production of its Bt cotton strains - first approved for sale in India in 2002 - to 28 seed companies. Monsanto claims there is solution yet to counter the infestation of whiteflies other than spraying approved pesticides.

The Bt seeds cost more than older cotton strains and must be bought every year by farmers. The companies that market the GM cotton say growers end up better off because they get higher yields and save money on pesticides, but some farmer groups are concerned about growing dependency on the new varieties.

Bharatiya Kisan Sangh is stepping up its opposition. It wants Bt cotton banned and is trying to block the introduction of crops like GM mustard - an oilseed - now in development. It wants the government to conduct tests on all GM seeds before they are sold in the market.

There have been no reports of whitefly attack in other parts of the country and the infestation in Punjab and Haryana is unlikely to have a significant impact on national output despite the serious local damage.

India grows cotton on 11-12 million hectares and nearly 95 per cent is GM cotton.

Green NGO Navdanya, led by environment activist Vandana Shiva, accused the genetically modified (GM) seed companies of "luring" the farmers with "false" promises and demanded fair compensation and promotion of local varieties of seeds to prevent another "catastrophe".

"Navdanya stands against the victimisation of Punjab farmers, who were lured by GM seed companies' false promises of 800 Kg yield per acre," it said in a statement and warned that Punjab is headed for another agrarian crisis.