Frost & Sullivan recognizes Monza 5 RFID chip for apparel sector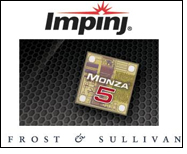 Based on its recent analysis of the radio frequency identification (RFID) chips market, Frost & Sullivan recognizes Impinj, Inc. with the 2011 North America Frost & Sullivan Award for Product Differentiation Excellence for its Monza 5 RFID chip.

This product provides unmatched read reliability, accuracy and encoding performance for the retail apparel sector. The company leverages a decade of experience in the tagging market to develop and add this product to its Monza line.

The features embedded in the Monza 5 RFID tag chip are tailored to the needs of retailers that read tags as well as retail brand owners (RBOs) that must attach and encode tags. Impinj has enhanced the readability of its tags in multiple ways to boost inventory accuracy and business results for retailers and other end users.

"The Electronic Product Code (EPC) Gen 2 specification provides a mechanism to 'sleep' tags once they have been read; however, tags typically re-awake within a second, forcing readers to constantly re-read strong tags," said Frost & Sullivan Research Analyst Ram Ravi.

"To restrain signals from tags that have been previously read, Impinj's Monza 5 tag chips include the TagFocus feature, which enables the reader to indefinitely hold tags in the sleep state. This boosts read accuracy by enabling readers to focus on weaker tags that have not yet been discovered."

RBOs that participate in retailer tagging programs to boost on-shelf availability seek to incur minimum total applied tag costs. Impinj has reduced this cost burden by incorporating sophisticated technologies in Monza 5 to enable very high write speed and write sensitivity. Write speed enables RBOs to encode nearly 1,750 tags per minute, which is up to four times faster than competitive tag chips.

"Using Monza 5, we are able to avoid some costs that are typically associated with adding RFID to factory operations" said Jay Craft, VP of Product Development for VF Jeanswear. "We appreciate the leadership that Impinj has shown in delivering technology that makes a difference to business users in our industry."

The Monza 5 chip also features Impinj's FastID, a technology that enables innovative EPC encoding methods that rely on reading the tag ID (TID) serial number that is hard-coded into every chip at manufacture.

FastID enables readers to extract the TID number two to three times faster than previous methods and its high write sensitivity reduces failed writes and re-writes. With the combination of speed and sensitivity enhancements during the write process, Monza 5 augments throughput for serialization and enables RBOs to cost-effectively implement RFID.

Before RFID tags can become hang tags and labels, inlay manufacturers must attach the tag chip, or "die", to a plastic and metal substrate to create a device called an "inlay." With tag chips shrinking to the size of a grain of salt, the physics of handling the tiny dieand attaching it to the substrate is challenging. Dozens of manufacturing variables come into play during this process, and inlay manufacturers employ highly trained technologists to manage it.