Rentokil's Textiles Division to use vrSoftware Sampleroom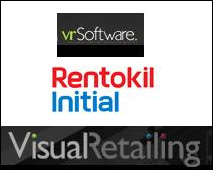 vrSoftware, the market leading provider of "Visual Retailing" software solutions for planning and communication in the fashion retail industry, announced that Rentokil Initial Group as a new 'site license' customer for its vrSoftware vrSoftware Sampleroom solution (vrSampleroom).

The Rentokil Initial Group focus on a number of industries including textile services, in particular the "work wear" segment. Using a site licence of vrSampleroom, the aim of the project is to create sales catalogues containing all of the relevant product categories to support the sales representatives in Benelux, Germany and France.

vrSampleroom is an interactive range visualisation tool. It combines a visual database with applications that allow you to manage, analyse and present your range. The vrSampleroom database holds garment sketches and photos, along with detailed product information. You can see all your products and group or filter items however you want - it's quick, and easy to use.

For the Rentokil Initial Group, the total data input is done in one central database enabling their National Sales Catalogues to be kept up to date using the recently added vrRemote application. As a result 350 sales representatives and support staff will have access to the latest updated work wear ranges which are specific to their country. Implementation has already been completed in Belgium with Netherlands, Germany and France to follow.

Frederik Vereecke, Marketing Director of Rentokil Initial Textiles Division commented, "Prior to using vrSampleroom each country had its own system. However, because we work on an international basis, it was important to harmonise our ranges across Europe and have insight into the complete product portfolio - vrSampleroom helped us achieve that. The impact has been that it has significantly helped the sales process. Today, everything is visible in the vrSampleroom database making is easy for our sales representatives to simply view the available ranges via their laptops and in doing so provide immediate information back to our customers."

Sjef van Dongen, Managing Director of Visual Instinct and vrSolution Provider of vrSoftware commented, "Through using vrSampleroom, we have been able to streamline the sales process for Rentokil Initial through improving visibility of the ranges available.

"As a result this will significantly improve the way in which the 350 sales representatives present the ranges to their customer base. We are delighted to have been given the opportunity to work with Rentokil Initial to address this important business issue for them."

Rentokil Initial is one of the largest business services companies in the world, operating in all the major economies of Europe, North America, Asia Pacific and Africa. The company has some 68,000 employees providing a range of support services in over 50 countries. Services include textiles and washroom services, pest control, tropical plants, parcels delivery and facilities services.