Gerber to overcome customers' challenges at Texprocess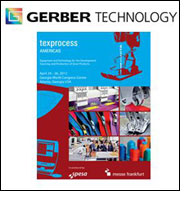 For more than four decades, Gerber Technology has helped thousands of customers use automation to overcome their most challenging business hurdles. At next month's Texprocess Americas show in Atlanta, Georgia, the company will take a modern-day approach to expose attendees to several new products. Applying the concept "Bring us your challenge. We can help." the company will offer these latest solutions to overcome customers' challenges."

The challenge: Cutting difficult materials precisely and at high speed.

The solution: The new GERBERcutter Z1 is the next generation computer-controlled, automated cutting system and the optimal solution for single- and low-ply cutting of a wide range of challenging composite materials, upholstery fabric and technical textiles. The system's powerful Axis software delivers comprehensive reports, simplifies re-cutting of parts and enables users to add multiple productivity enhancements like part identification systems.

The challenge: Eliminating bottlenecks associated with labeling cut parts for accurate downstream identification.

Gerber's new ZipJet part identification system prints alphanumeric text and bar codes on composite plies and cut parts to enable accurate identification during the kitting or bundling process. ZipJet won't harm material because it does not come into contact with it. The system eliminates bottlenecks caused by traditional pen-plotted annotation and eliminates errors that can occur when applying pre-printed labels to parts manually.

The challenge: Getting the right product to market, on time and at the right cost.

The solution: Gerber's award-winning YuniquePLM system tracks responsibilities and workflows, provides a comprehensive view of the business and facilitates communication with global partners. Designers love YuniquePLM because it's easy to use – even on mobile devices.

Managers rely on it for clear visibility into the details surrounding a product's journey to market. IT professionals welcome it because it integrates seamlessly with existing enterprise-wide business systems and scales to fit the needs of any size business.

The challenge: Simplifying the day-to-day tasks associated with pattern design and nesting.

The solution: AccuMark version 8.5, Gerber Technology's latest version of its industry-leading pattern design, grading and marker making software offers a fresh, new interface and simplifies the day-to-day tasks of inputting customer orders and planning markers for maximum material utilization. Users can also import fabric prints at actual scale, define repeats and use this information to match pattern pieces visually and enter fabric weight to calculate material costs.

The challenge: Plotting wide markers quickly.

The solution: The GERBERplotter XLp plots markers up to 2.2 meters wide at speeds up to 95 square meters per hour.

The challenge: Accelerating manufacturing workflows when working with custom printed textiles.