Online fashion retailer to use cloud-based Intelecom tool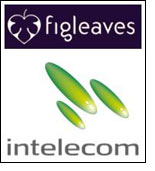 Intelecom, a provider of cloud-based contact centre solutions, announced that Figleaves, the ultimate online destination for lingerie, loungewear and swimwear, is using its' cloud-based contact management portal Connect. Figleaves's central call centre is based at the organisation's main warehouse and distribution centre in Haverhill, Suffolk and supports 1.2 million customers in 100 countries.

Figleaves replaced its original telephony system with the hosted Intelecom solution to provide automated call routing and accurate reporting. After a thorough review of the marketplace, it selected Intelecom as one of the first developers of cloud-based contact centres with a robust technology that combined resilience with ease of use.

Sarah Arnold, Customer Services Manager at Figleaves.com, commented, "Intelecom fitted the bill. The technology was tried and tested which gave us huge confidence from the outset. We didn't even need to invest in new handsets keeping our capital costs to a minimum. After a few minutes of training, we could plug in and play and see immediate benefits."

Figleaves.com's busy contact centre is open from 8am until Midnight between Monday to Friday, from 9am until 8pm on Saturdays and from 10am until 6pm on Sundays. During the week, the opening hours are deliberately longer to accommodate the company's loyal following of North American customers who regularly visit the Figleaves.com site in the USA.

Calls last anything from 2.5 minutes for general order enquiries around delivery dates to nearly 5 minutes for personal shoppers who require a more tailored service with specialist advice on sizing and styling.

Despite changes in technology over the past few years, the telephone remains the most popular form of communication for Figleaves.com customers at 57% of all contact via calls followed by email (32%) and web-chat (11%). The trend reflects the importance of offering customers a highly personal service, vital for boosting customer confidence, satisfaction and long-term loyalty.

Since working with Intelecom, Figleaves.com has reaped a series of benefits for staff and customers alike. With all the right information at their fingertips, supervisors can quickly assess service levels around the world and agents are empowered to make their own decisions.

Agents regularly monitor their own status and have a complete overview of the whole department's activity. This gives them the opportunity to adjust their performance to meet their own personal objectives and step in, when necessary, to ensure customers receive the high levels of service they have come to expect.

Furthermore, Intelecom's web-based statistics tool, Sonar has become a valuable and strategic resource for supervisors. Extracting accurate statistics from within the Intelecom system, they can create meaningful reports that track performance by day, by week, by individual agent and bydepartment and even provide comparisons year-on-year, a process that takes minutes rather than hours.